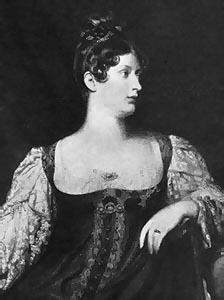 Princess Charlotte of Wales (1796-1817)
Born: 7th January 1796 at Carleton House, Westminster, Middlesex
Heir Presumptive of Great Britain
Died: 6th November 1817 at Claremont House, Esher, Surrey
Princess Charlotte Augusta, the only child of King George IV of Great Britain and Caroline of Brunswick, was born at Carlton House during the brief union of her parents, who had quarrelled before her birth and were never reconciled. After their separation, she was allowed, occasionally, to see her mother, but resided at Carlton House till 1805, when she was taken to Windsor Castle, Lady Elgin being her first governess. Her grandfather, George III, was devoted to her. "Tis very odd," he said, "she always knows me on horseback."
"Yes," said the Queen, "when the King comes to her on horseback, she clasps her little hands, and endeavours to say 'Gan-pa' immediately" (1797).
Madame d'Arblay, in 1814, thought her quite beautiful. She was certainly a very hot-tempered, high-spirited child, with occasional lapses into the hoydenish bad-manners of her mother; and it may have been his hatred of that mother which made her father so unwilling, both before and after he became Prince Regent, to recognize her as heiress to the throne. But she learned her position early, and her father's attitude towards herself naturally prompted her to take her mother's side in their quarrels.
Princess Charlotte was betrothed, in 1813, to the Prince of Orange, heir to the throne of Holland, but broke off the match of her own accord the next year after hearing of his drunken escapades at Ascot Races. She transferred her affections to Crown Prince Augustus of Prussia, a man thought by most to be beneath her rank. Her father was very angry at this and even her mother refused to sympathise much with her. She was sent to Cranbourne Lodge in Windsor Great Park in disgrace, and kept in a kind of durance throughout 1814.
In May 1816, she was married to Leopold of Saxe-Coburg, afterwards King of the Belgians. The Regent hated the marriage, for he had always wanted the Prince of Orange for a son-in-law. Charlotte and Leopold spent a year and a half of great happiness at Claremont, but the Princess died in giving birth to a stillborn child in November 1817 and was buried in St. George's Chapel, Windsor. Madame d'Arblay speaks of the passionate love of the young couple for each other.
The grief of the nation for her death was a thing long remembered; but that death led to the immediate marriage of the Duke of Kent, which was followed by the birth, in 1819, of the Princess Victoria.
Edited from CRL Fletcher's 'Historical Portraits' (1919).