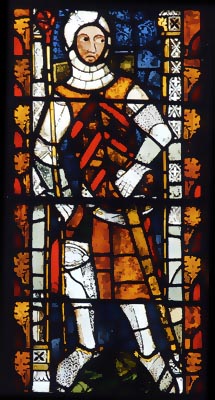 Gilbert 'the Red' De Clare,
Earl of Gloucester (1243-1295)
Born: 2nd September 1243 at Christchurch, Hampshire
Earl of Gloucester
Earl of Hertford
Died: 7th December 1295 at Monmouth Castle, Monmouthshire
Gilbert was nicknamed the 'Red Earl' after the colour of his hair. He was the eldest son of Richard de Clare, Earl of Gloucester & Hertford and Margaret de Lacy, the Countess of Lincoln. After his father's death in 1262, Gilbert, still a minor, inherited vast estates in the West Country, the Welsh Marches and Ireland. He took possession the following year.
During Simon de Montfort's Rebellion of 1263-4, Gilbert was, initially, a keen supporter and he and his brother were knighted by the Earl shortly before the Battle of Lewes. However, being the two most powerful men in the country, a clash was inevitable. Gilbert was greedy for the spoils of victory, including additional authority in the government and a degree of independence for his vast estates. He therefore stood up as a defender of the 'Provisions of Oxford' - his father's initiative to establish a proto-parliament - and inferred that De Montfort's despotism was betraying its principles. In May 1265, Gilbert split from the De Montfort party and allied himself with the newly escaped Prince Edward, for whom he won the Battle of Evesham. However, while the surviving followers of De Montfort thought him a traitor, Gilbert's relationship with the Royalist party was hardly less strained.
He became a champion for disinherited rebel sympathizers and protested at the lack of implementation of the 'Provisions of Oxford', even though the Royal victory rendered these redundant. With constitutional restraint and decency as his watch words, Gilbert seems to have hoped to exercise a detached role in English political life. When he found this impossible, he raised an army in 1267 and took over the city of London. His grievances were then placed before the arbitration of Richard, Earl of Cornwall. To all the World, Gilbert thence appeared reconciled with the establishment, but discontent was still festering.
Gilbert took up the cause of the Cross in 1268 and promised to go on Crusade with Prince Edward two years later, although this never came to fruition. The following year, he succeeded in securing the restoration of lands to those who had been disinherited. Thereafter, however, his political autonomy was rendered impotent by firm Royal control and he remained loyal to King Edward I. Having been divorced from Henry II's hypochondriac half-niece, Alice De Lusignan, in 1271, Gilbert remarried, in 1290, to Edward I's daughter, Joan of Acre. The marriage contract stipulated his vast estates could only be inherited by their descendents, thus greatly increasing the chances of them reverting to the Crown (which, indeed, occurred in 1314). Gilbert was thus bound still more closely to the Royal Court; although, as late as 1292, he was being tried over disputed rights in the Welsh Marches. He only gained his freedom and the restoration of his lands, after paying a fine of 10,000 marks (£6,666.13s.4d).
Gilbert De Clare spent his life attempting to establish himself in an independent political role from which he might negotiate his loyalty to the Crown. Whatever his actual view of the 'Provisions of Oxford', he played off one faction against another in the Civil War, exploiting the situation as an easy means of pursuing his own personal agenda. In this, he ultimately failed and was subsequently humiliated, largely because of his own political incompetence, but also due to the increase of Royal power after the Baronial Wars. In the end, although he remained at Court, he had become a relic of a bygone age. Earl Gilbert died in December 1295, at the age of fifty-two, and was buried in Tewkesbury Abbey (Gloucestershire); although his widow may have buried his heart in the church at their favoured Berkshire manor of Long Wittenham, where the two often stayed when attended the King at Oxford and Woodstock.