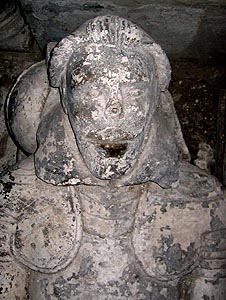 Sir John Davis Senior (1560-1625)
Born: 8th February 1560 in the City of London
Mathematician & Conspirator
Died: 14th May 1625 at Pangbourne, Berkshire
John Davis was an distinguished mathematician who had studied at Gloucester Hall, Oxford. Catholicism remained at strong influence at this college and it believed to have been where he converted to the Church of Rome. He became a soldier in the English Army and fought in the Spanish Wars of Queen Elizabeth I's reign under Robert Devereux, the 2nd Earl of Essex. He was knighted after the taking Cadiz in 1596, a battle in which he, apparently, made a fortune in Spanish booty.
Despite such rewards, in later years, something happened to question his loyalties to the Crown and he became embroiled in the Earl's ill-advised Rebellion. Since 1598, Sir John had held the office of Surveyor of Ordnance at the Tower of London and was thus entrusted, by Essex, with the task of guarding the hall of the Queen's Palace at Whitehall as soon as her attendants had been overpowered. The plot failed, but Davis' confession shows him to have been much in Essex's confidence. Although convicted and sentenced to death, on 5th March 1601, he was pardoned upon his abandonment of both his friends and his faith. He was called as a witness against his co-conspirators, where he used his testimony to blame Sir Christopher Blount for his conversion to Catholicism. He subsequently settled just across the Thames from this man's home, at Bere Court in Pangbourne, which he purchased in 1613. He died in 1625 and was buried beneath a fine effigial monument in Pangbourne Church which, unsurprisingly, bears an inscription praising his achievements without mentioning his disgrace. Sir John was succeeded in his estates by his son and namesake who became a Royalist officer during the Civil War.
He should not be confused with Sir John Davies of Englefield House or other near contemporary John Davi(e)ses.