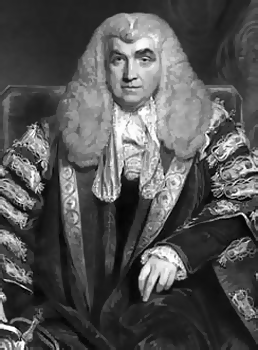 John Scott (1751-1838)

Born: 4th June 1751 at Newcastle-upon-Tyne, Northumberland
Baron Eldon
Viscount Encombe
Earl of Eldon
Died: 13th January 1838 at Hamilton Place, Westminster, Middlesex
John Scott was the third and youngest son of William Scott Senior, who was in business as a coal merchant of Newcastle-on-Tyne, and of Jane Atkinson. He was not so great a scholar as his elder brother, William (later Lord Stowell), but together they received their education at the Newcastle Grammar School from a Fellow of Peterhouse named Moises. John went to University College, Oxford, of which he was later a fellow. Though he embraced the profession of the Law, mastering the science and practice of Common Law and Equity, John shut himself away from Society with his adored young wife, Bessy Surtees, with whom he had run away by the aid of a rope-ladder in his twenty-first year.
John's success at the Bar were rapid. He was called in 1776 and, within five years, had got a considerable practice in the Equity Court. He took silk and entered Parliament in the same year, 1783: Thurlow, being his first and remaining his most steady, patron. He became Solicitor-General in 1788, Attorney-General in 1793 and was already known as a trusty supporter of all vigorous measures of Pitt's Government for the repression of sedition. But, side by side with his vigorous Toryism must always be remembered his scrupulous regard for precedent and formality. No-one could prove that Scott, whether as attorney in pleading or as judge in giving decisions, overstepped the strict letter of the law or was guilty of partiality. He rejoiced that the law was strict and rejoiced to make it more strict by legislative enactment, but in no other way. In 1799, he became Chief Justice of the Common Pleas and was created Lord Eldon and, in 1801, was Lord Chancellor in Addington's Government. With the exception of the brief interval of the 'Talents' Ministry, 1806-7, Eldon sat upon the woolsack for the ensuing twenty-six years. He was freely accused by his political opponents of having juggled with the question of George Ill's sanity in 1801 and 1804; of betraying Addington to Pitt in the same year; of deserting, in 1811, the cause of the Princess of Wales, to whom he had given some advice in 1807; of toadying, in 1812, to the Prince Regent, whose power he had wished to restrict in the previous year on the same lines as in 1788. To all these accusations good answers could have been given, but Eldon was not a lucid or convincing speaker, in the House of Lords, and he was stout enough to be very indifferent to public opinion. To keep the Whigs, whom he honestly regarded as mere traitors, out of office, he would have stooped a good deal more than he was ever accused of stooping. He was determined that the negotiations for a coalition, in 1812, should fai; and, if anything besides the pedantic scruples of Grey, Grenville and Canning brought about their failure, it was Eldon's newly acquired influence with the Prince Regent. Yet, long afterwards, when he had to preside over Queen Caroline's trial in the House of Lords, he maintained, to the fullest degree, the reputation of the English Law for perfect fairness.
But where mere 'politics' were concerned, it is easy to see that Eldon's influence was wholly bad. The three most crying needs of the time were the removal of religious restrictions, the reform of the criminal law and a more free system of imports, especially of corn. On every one of these points, Eldon was the most rigid opponent of all change. The breadth of mind natural to a great lawyer, such as Eldon undoubtedly was, seems to us, and seemed to most of his contemporaries, absolutely irreconcilable with the bigotry that he displayed against Catholic Emancipation; but this bigotry endeared him to the University of Oxford, which adored him as her High Steward. He was quite prepared to exhort George IV to veto the Act of Emancipation. Tradition says they wept upon each other's necks in 1829, but luckily the King was made of fibre less stout than the ex-Chancellor. Against. Romilly and Mackintosh, Eldon was prepared to defend the worst absurdities and excesses of the old Draconian code and he defended them equally against Peel. He must have known that the result was that nine criminals out of every ten escaped punishment altogether. The fact is, that as Eldon grew older, he saw, in sheer dogged resistance to all change, the one hope for the country. Lord Sidmouth was his brother's son-in-law, and they continually hugged each other as the 'last of the old school'. This is not to say that they had not been right in the measures of repression against seditious meetings in 1817-19, as their predecessors had been in 1794-8. They were equally united in their opposition to the Reform Bill.
Eldon resisted as much as he could the accession of Canning to the Foreign Office in 1822. His personal distrust of Canning dated from 1809 and, in Canning's opinions on the Catholic question, he foresaw the greatest danger to the country. He resigned when Canning became Prime Minister in 1827. The loss of his beloved wife, in 1831, was a fearful blow to him and he is said to have thence spent much time at Erleigh Court in Berkshire with his brother, Lord Stowell. He was certainly a great patron of the Royal Berkshire Hospital in Reading, near which Eldon Square is named after him. By this time, his eldest son had been long dead, leaving him with a grandson, heir to the Earldom which had been conferred on him at George IV's Coronation. He died six months after the accession of Queen Victoria.
Greville, who calls him "a contemptible statesman," remembered him as a very cheerful, good-natured old man, loving to talk and telling anecdotes with considerable humour and point, "beguiling the tedious hours, during which the Prince Regent used to keep the Lords of the Council waiting at Carlton House, with amusing stories of his early professional life and anecdotes of celebrated lawyers, which he told extremely well".
Edited from CRL Fletcher's 'Historical Portraits' (1909)