Mill Lane & Castle Breweries
Reading
Three Short Histories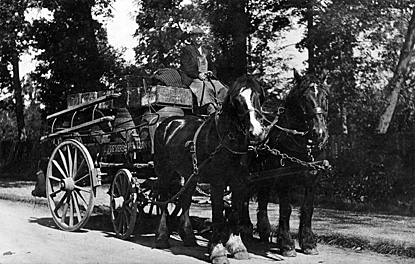 Noake's Castle Street Brewery
The Noake family owned both a brewery on the south side of Castle Street and a malting house on the east side of London Street in Reading from at least the end of the 17th century. In 1691, William Noake Senior was succeeded in these by his eldest son, also William. William Noake Junior had three sons. He was initially helped in the malting house by his eldest son, William, but, upon the father's death in 1718, William went into property and the malting business was transferred to his youngest brother, Abraham. The middle son, Thomas, inherited the Castle Street Brewery but, surviving both his brothers, he eventually ended up with everything. Thomas died in 1732, leaving the brewery to his niece, Mary Bourne, and the malting business to her sister, Letitia Bourne. Neither of these lady's appear to have had an affinity with the businesses and the brewery (possibly the malting house as well) seems to have been sold to Dr. Robert Burd and his wife, Elizabeth, the widow of Thomas' cousin, Robert Noake. In fact, it is possible that Robert had run the business for Thomas for some years before his death in 1720. He certainly owned a number of tenements in the same area. After Elizabeth's death in 1748, the brewery passed to her son, the seventeen-year-old Robert Burd Junior. He retained ownership until his own death in 1753 when the brewery was sold, presumably by his sister, Elizabeth, to Matthias Matthews. Matthews created a partnership with his son-in-law, John Deane, and the latter's brother, Henry Austen Deane, both solicitors. HA Deane died in 1765, when his eldest son, Henry, sold out to his cousin, John Deane, who ran the business until 1791. In that year, he sold up to Jonathan Tanner, who, in 1797, entered into a partnership with Thomas Dreweatt and Thomas Sowdon, although the latter only stayed for five years. Sowdon was a wine merchant in Castle Street but his experiences at the brewery may have encouraged his son to found his own brewing establishment in later years. From 1802, therefore, the business became known as Tanner & Dreweatt. However, four years later, this partnership too was dissolved. Tanner carried on alone, although Dreweatt retained an interest in the properties, having half of the company's pubs allocated to him. Dreweatt died in 1824 and, two years later, Tanner bought out all of the former's interests in the business from his heirs. Tanner then quickly brought Thomas Rickford and Adolphus William Hume into the business, although Hume left in July 1828. The other two partners continued alone until 1834 when Charles Curry Bickham took over from Tanner upon his being declared bankrupt. Tanner had had his fingers in lots of pies, some of which had failed. Thomas Rickford was eventually joined in partnership with Thomas Hawkins, a brewer from Wexcombe in Wiltshire, when, in 1847, Bickham left the company. A few years later, he was running the Hyde Brewery in Winchester (Hampshire) for James Simonds (the son of H & G Simonds' 2nd cousin). Hawkins lived at Ripon Lodge on the Bath Road. At this period, the brewery was located at 138 Castle Street.
Willats, Blandy & Blandy's Mill Lane Brewery and Stephens, Blandy & Blandy Bank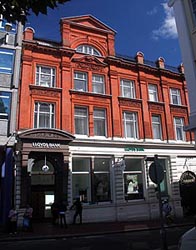 John Blandy (1759-1821), the younger son of William Blandy Senior of Reading, became a solicitor and founded the famous firm of Blandy & Blandy in the town. His younger sons were William & Charles Blandy. In 1831, they joined forces with John Yard Willats, taking over William Stephens' share of Willats & Stephens' Mill Lane Brewery, and forming the company of Willats, Blandy & Blandy. The brewery is said to have begun in 1750, apparently by William May (d. 1763), probably the younger brother of Charles May, the first May brewer in Basingstoke (Hampshire), father of Daniel May the builder of Sulhamstead House and brother-in-law of Robert Noake (see above). By 1796, the Mill Lane Brewery was in the hands of the Aldermaston Wharf brewer, John Stephens, who had also been a banker in Reading since 1891 (see below). He was joined by his elder brother, William, before his death in 1814. William then brought his two sons, William and John, into the business. It was shortly after William Stephens Junior's death in 1829 that the family pulled out of the Mill Lane Brewery in favour of the Blandys, although they continued at Aldermaston Wharf.
With large amounts of cash passing through their hands, in 1841, the Blandy brothers also diversified their business interests by joining the Stephens' Reading bank, Stephens, Harris & Stephens. The bank had started out as Micklem, Stephens, Simonds and Harris' Bank founded in 1791 by Robert Micklem, a draper; John Stephens the brewer; Robert Harris, a mealman and William Blackall Simonds, another brewer. Micklem died in two years later. In 1814, John Stephens died and Simonds withdrew from the bank in order set up the Simonds & Nicholson Bank instead (later called J & C Simonds). John Stephens' brother, William, inherited his position at the bank and was joined by his son, another William, to form the Stephens, Harris & Stephens' Bank. William Stephens Senior died in 1829 and his position in the bank was was taken by his younger sons, John and Charles. With the Blandys investment in 1841, the bank became known as Stephens, Blandy & Blandy. Charles became the chief Stephens partner after the deaths of his two brothers, followed in 1867 by his son, Charles Junior. In 1899, two years before the latter's death, the bank was bought by Lloyds Bank. The building still stands in the High Street (the right hand side, the other side was once the Broad Face inn)
Charles Blandy also lived at Ripon Lodge on the Bath Road, but had no children. His brother, William Blandy, lived at the Brewery in Mill Lane (between Nos. 6 & 7). He was the father of Wiliam Frank, who entered the family solicitors' business; Henry Bilson who entered the Brewery; and Frederick John who entered the Bank. Frederick lived at Freemantle Lodge, next to Ripon Lodge. Henry Bilson Blandy lived at 'The Cliffords' in London Road. As well as being senior partner in the brewery, for 42 years, he was a member of Reading Borough Council and, for 36 years, he was a borough magistrate, with 4 years as chief magistrate. He was mayor four times in the 1870s and was a Director of the Reading Gas Company. The Brewery became Blandy & Blandy Brewers in 1852 before merging with Rickford & Hawkins' Castle Brewery upon the death of Thomas Rickford, three years later, to become Blandy & Hawkins. The Mill Lane brewery was then largely demolished.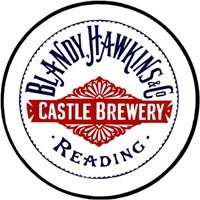 Blandy & Hawkins' Castle Brewery
Blandy & Hawkins' Castle Brewery, officially at No 17 Castle Street, expanded out behind Nos 11-19 through a covered way through between this and No 15. The change from 138 Castle Street was due to a renumbering of the houses in 1872. Thomas Hawkins was succeeded in the brewery by his son, Hugh , upon his death in 1893. Henry Bilson Blandy and Hugh Hawkins were joined there by the former's nephew, John Cecil Blandy, and it became the second most prominent brewery in Reading, with tied houses across the town and much of Berkshire. Eventually, however, the partners sold the company to Hugh's cousin, Edwin Black Hawkins, at the Newbury-Based Hawkins & Parfitt South Berkshire Brewery in 1910. Henry Bilson Blandy retired to Mertonford, a house he had had built for him in Wokingham in 1896, but JC Blandy remained as MD until 1913. Seven years later H & G Simonds bought the brewery and closed the Castle Street Brewery site.