RBH Home
Maps & Travels
Articles
Legends
Towns & Villages
Castles & Houses
Churches
Biographies
Gentry
Family History
Odds & Ends
Mail David

Holme Park
Sonning, Berkshire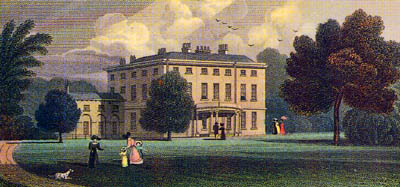 Sonning had been the home of a Palace of the Bishops of Salisbury since Saxon times. By the Tudor Age, the Bishops seldom visited and, in 1574, the estates were exchanged with the Crown. Queen Elizabeth graced the building on several of her countrywide tours and her steward, Sir Henry Neville, is remembered by his heraldic symbol, the Bull, at the local pub. However, fifty years later, the palace was in estate of extreme disrepair and King Charles I raised some money for his rule without parliament by selling the Home or "Holme" Park to Lawrence Halstead, in 1628, and, twenty-six years later, it was purchased from him by Sir Thomas Rich.
Rich was a wealthy merchant who used his ready cash to become a great patron of the Blue Coat School in Reading; and to tear down the medieval palace at Sonning and build himself a fine new mansion where his family lived for the next hundred and fifty years. When the last of the line died in 1795, Holme Park was purchased by another local landowner, Robert Palmer from Hurst Lodge. Palmer was a rich lawyer in Great Russell Street (Bloomsbury) where he became the agent for the Duke of Bedford. The year following his purchase, he pulled down the old house and set to work erecting a fine new building in the latest Georgian style (as illustrated). This family lived at the Park for just over a hundred years, rebuilding the house again in Victorian Gothic style in 1881. The estate eventually left private hands, in 1912, when it was sold up to become a preparatory school. During the Second World War it was used by the Royal Veterinary College and appropriately became the home of the Reading Blue Coat School in 1947.
Holme Park is currently the home of the Reading Blue Coat School.