RBH Home
Maps & Travels
Articles
Legends
Towns & Villages
Castles & Houses
Churches
Biographies
Gentry
Family History
Odds & Ends
Mail David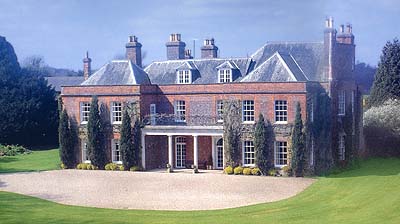 Standen Manor
Hungerford, Berkshire
Standen Manor, south of Hungerford, is an extremely attractive, Grade II Listed country mansion built in 1732. The property is constructed of early 18th century red brick and some flint under a tile hung hipped slate roof with attractive sash windows. There is a balcony with a 19th century decorative iron ballustrade on two Tuscan columns and pillasters over the flagstone porch. There are a myriad of period features throughout the property including attractive cornicing, picture rails, exposed polished oak stripped floors and a variety of decorative fireplaces. The drawing room, with its two Corinthian pillars, was the ballroom and has an unusual oak sprung dance floor.
The first noted owners of the manor of South Standen were a family called Hussey who held the manor from the 12th to the 15th Century. By 1486, the manor had been inherited by the wife of Sir Reginald Braye KG, the chief minister of King Henry VII. It was one of their many properties, however, and it seems unlikely that they ever visited. Braye died childless in 1503 and divided the interest between his brother John's three sons. Around the 1550s, the estate was purchased by John Goddard, a man from an ancient Wiltshire family seated at Upper Upham House in Aldbourne. Thus began an 150 year association with that family. They also owned Clyffe Pypard Manor in Wiltshire and divided their time between the two. John's great great grandson, Francis Goddard, had been the owner of Standen for 15 years when he gained a new neighbour in Jethro Tull, the inventor of the seed drill, the main cause for the revolution in agriculture. The house passed through various families until, in 1922, Standen was advertised "to be sold privately or by auction later on" and was bought by the Anderson family, who owned it, until they sold up in 1981. During the Second World War, the house was requisitioned and occupied by troops of the 101st US Airbourne division during the 10-11 months prior to D-Day. The men were visited by the supreme commander, General Elsenhower, on the evening of the 5th June 1944 prior to their departure to France.
Standen Manor is a private residence. It was last offered for sale by Knight Frank in April 2002.