RBH Home
Maps & Travels
Articles
Legends
Towns & Villages
Castles & Houses
Churches
Biographies
Gentry
Family History
Odds & Ends
Mail David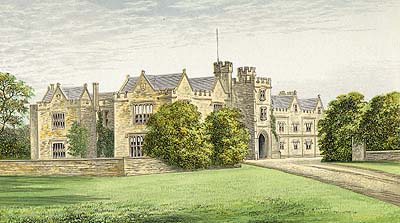 Wytham Abbey
Wytham, Berkshire
Wytham Abbey is situated about three miles from the city of Oxford, on a rising ground above the bank of the River Thames.
Here was, in Saxon times, the nunnery of Helenstow, removed from its previous settlement at Abingdon, where it had been first established, but, as may without difficulty be supposed, nothing but the name of the ancient pile remains.
The more modern edifice was built in the reign of King Henry the Seventh by Sir Richard Harcourt, who became possessed of the manor of Wytham in 1480. The family sold it to Lord Williams of Thame, who largely remodelled the building. From him, it descended to the Lords Norreys of Rycote and thence the Earls of Abingdon.
Wytham Abbey has been divided into private apartments.