RBH Home
Maps & Travels
Articles
Legends
Towns & Villages
Castles & Houses
Churches
Biographies
Gentry
Family History
Odds & Ends
Mail David

Lambourn Church
Monuments to Sir Thomas & Lady Essex, 1558
Centre of St. Katherine's Chapel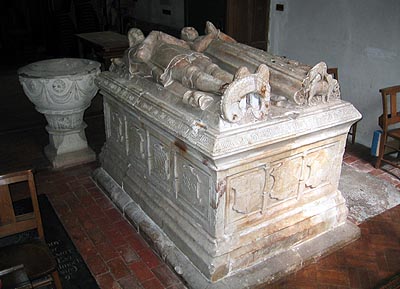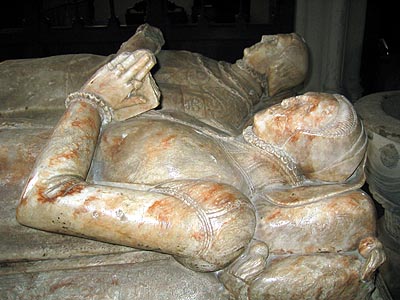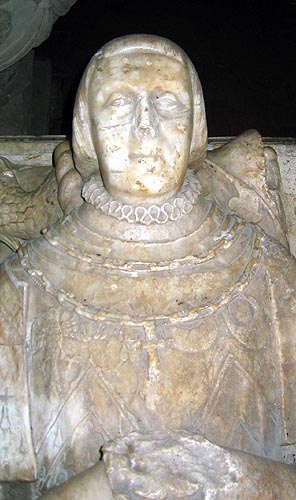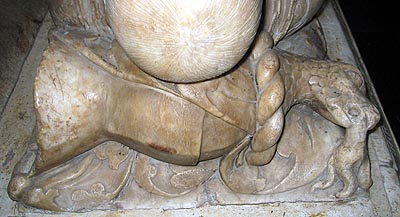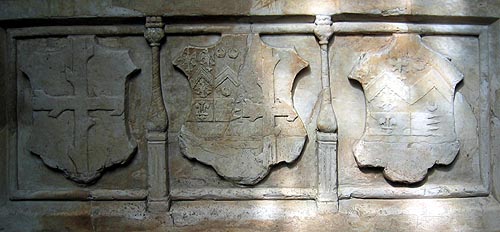 This monument in Lambourn Church is thus described by Ashmole: "In the middle of the Chapel on the North Side of the Chancel is a fair raised monument, whereon lye the Statues in full Proportion, according to the Life, of a Knight and his Lady; he in his Surcoat of Arms over his Armour, resting his Head on a Helmet and Crest, viz.: an Eagle's Head with a Firebrand [ie. a broken hawk's leg] in his Mouth, and his Feet on a Dolphin bowed; she in her usual Habit and Attire, her Feet resting on a Goat with Wings [ie. a griffin, the Sandys family crest], and this Epitaph circumscribed on the Ledge thereof: "Here lyeth the Bodies of Thomas Essex, Knight, who deceased the 29th Day of August, in the Yere of Our Lord God, One Thousand Five Hundred Fifty and Eight, and Dame Margaret his Wif.""
On panels round the tomb are several coats of arms, which the following extract will explain: "Essex of Lamborn[e]: Arms: Quarterly of 6, 1 and 6, Azure, a chevron Ermine, engrailed Or, between three eagles displayed, Argent; (2) Sable, a chevron Or, between three crescents, Ermine (Babthorpe); (3) Argent, on a chief Or, three fleurs-de-lis Gules (Rogers); (4) Argent, a fess Sable, a chief Gules (Cockburne); (5) Ermine, a chief per pale indented Or and Gules (Shottesbrooke)."
The family of Essex held land in the county from which they took their name, as well as Kent, in the latter half of the 12th century, and in Middlesex in the reign of King Edward IV and Queen Elizabeth. Sir Thomas was the son of Sir William Essex, Knight of Berkshire, by his wife, Elizabeth sole daughter and heir of Thomas Rogers (d. 1488) and also heir of John Shottesbrooke; and by this marriage the manors of Odestone in Ashbury, Beckett in Shrivenham and Benham Valence in Speen came into the possession of the Essex family. In addition, Sir William and his son Sir Thomas also held the manors of Charlton in Hungerford, Plukenets (formerly Chipping Lambourn) in Lambourn and Brightwalton. Sir Thomas married Margaret, second daughter of Sir William, Lord Sandys of the Vyne in Sherborne St. John (Hampshire), who was Chamberlain of the Household to Henry VIII 1530-35. The issue was William, eldest son who died s.p. in his father's lifetime, and with four other sons and five daughters, Thomas (d. 1575) who was High Sheriff in 1572-3 and married Jane, daughter of Robert Browne of Walcot House in Barnack (Northamptonshire) and had issue.
The grandson of Thomas Essex Junior (d. 1575) was Sir William of Beckett and Lambourn who was created a baronet in 1612. He married Jane, daughter of Walter Harcourt, of Stanton Harcourt. Known to all students of English literature are the names of these last, in whose family at Lambourn, Joshua Sylvester the poet, was for some time a tutor, and to whom there are frequent allusions in his poems. Sir William was taken prisoner at the Battle of Edgehill and died s.p.s.c. 1645, when the baronetcy became extinct. It is recorded that he indulged "himself in a licentious course of life, he wasted his great fortune and in his old age, compelled by his wants and on his son's invitation, he accepted the command of a company of foot in the Parliamentary army." He also resumed the ancient arms of the family, "Argent an orle gules."
Description edited from John Footman's 'History of Lambourn Church' (1894)
& P.S. Spokes' 'Coats of Arms in Berkshire Churches: Lambourn' (1935)