RBH Home
Maps & Travels
Articles
Legends
Towns & Villages
Castles & Houses
Churches
Biographies
Gentry
Family History
Odds & Ends
Mail David

Lambourn Church
Monumental Brass to Thomas Garrard & his wife, 1619
South Wall of the Chancel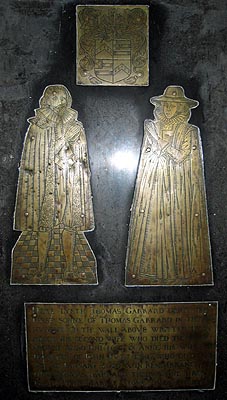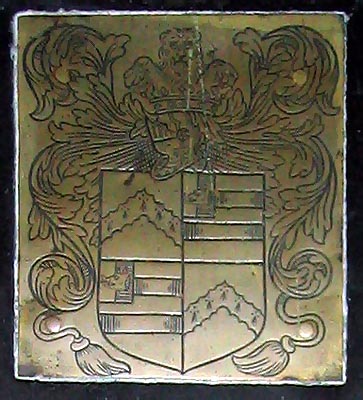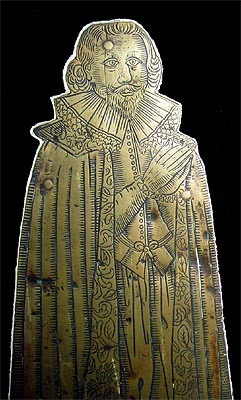 This well-executed brass now inserted in the south wall of the chancel of Lambourn Church, just inside the old priest's door, but originally in the floor beside the north wall, bears the full-length figures of a man and woman, with these words under:
Here lyeth Thomas Garrard Gent. The first sonne of Thomas Garrard in the monument on the wall above written by Alice his second wife, who dyed the 9th of August, Anno Dni 1619, & Anne his wife, the daughter of John Tutt Esqr, who died the 28th of January, 1610, & in remembrance of them Thomas Garrard their sonne hath placed this Marble stone over them.
The gentleman is shown with long hair, pointed beard and moustache, and standing on a tressalated pavement. He is wearing a doublet with small belt around the waist, knee breeches, and a long cloak, part turned back, showing an elaborate embroidered lining, and a large ruff collar. The wife has a large broad brimmed hat, a stiff Elizabethan ruff, an under dress with tight sleeves, a pointed stomacher, gauntlets and a long sleeveless cloak reaching to the feet.
The arms on the achievement are, Garrard impaling Pakenham quarterly 1st and 4th a chevron wavy, 2 bars gules, in dexter chief party per pale, boars head counterchanged Crest, issuing from a ducal crown, a leopard pouncing forward
Thomas was the son of Thomas Garrard Senior (d. 1583) by his second wife Alice, daughter of Richard Organ of Lambourn. He married Anne, daughter of John Tutt, Esquire, by whom he had issue, with four other sons, Thomas (d. 1656), the erector of the monument. The latter deserves a small paragraph to himself. He held the great tithes of the parish of Lambourn on lease from the Dean of St. Paul's, and lived in the parsonage - indeed, it is not unlikely that the present house was erected by, or for, him. He married Cicely, daughter of William Wilmot, of Wantage, and sister of Sir George Wilmot. He was a stanch Royalist, and in 1649 got himself into trouble, together with Thomas, his eldest son. The 'Articles of Delinquency against Thomas Gerard, Senior, of Chipping Lamborn,' tell us that "he persuaded his tenants to take arms for the King, promising to put a son into the place of any who fell, and allowed his tenants to pay contributions for the King's army, but none for the Parliament. He got a council order from Oxford about the mode of levying assessments, and had those who refused to pay plundered by the King's horse." He died in 1656, and was buried in Lambourn Church on July 25.
Description edited from John Footman's 'History of Lambourn Church' (1894),
H.T. Morley's 'Monumental Brasses of Berkshire' (1924)
& P.S. Spokes' 'Coats of Arms in Berkshire Churches: Lambourn' (1935)