The Ghost of Lady Hoby
Beaten 'til the Blood Ran
Sitting peacefully on the banks of the Thames near Maidenhead is Bisham "Abbey", said to be the most haunted house in Berkshire. Unlike many other mansions with similar titles, however, Bisham is only haunted by one ghost. She just appears rather a lot. Her story, a tale of pride and selfishness, is a lesson to us all.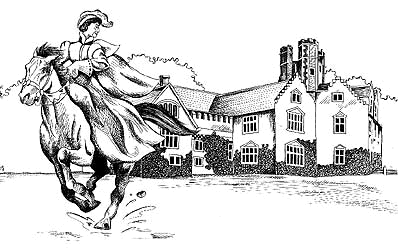 When the black monks of Bisham were forcibly evicted from their beautiful Abbey on the banks of the Thames in 1538, they did not go quietly. On the contrary, Henry VIII's commissioners had to drag the Abbot kicking and screaming from the steps of the High Altar. He could not bear to see his Abbey fall into secular hands. As he was bundled into the cart that was waiting to take him away, he turned and cursed any family who should ever live there: "As God is my witness, this property shall ne'er be inherited by two direct successors, for its sons will be hounded by misfortune."
Misfortune has indeed struck the sons of Bisham's owners, the Hobys and latterly the Vansittarts, with alarming regularity. The first instance of a sudden death in the family of the Lord of the Manor is, however, by far the most disturbing. This is the tale of poor little William Hoby.
The boy, William, was the youngest son of Sir Thomas & Lady Elizabeth Hoby. Like his brothers and sisters before him he was brought up at Bisham Abbey under the watchful eye of his mother, Sir Thomas having died when his children were very small. Lady Hoby was a personal friend of Queen Elizabeth I. She was very proud and ambitious, some might say even cold and hard. Being one of the most learned ladies of the age, Lady Hoby was eager to ensure that her children received the same rigorous education that both she and her husband had had. She therefore oversaw all her children's tuition herself, going so far as to actually teach them certain subjects, such as Greek and Latin. Dame Hoby expected perfection from her pupils, and wielded a heavy ruler to make sure she got it.
Poor William was not as bright as his siblings. He constantly stumbled over his lessons and blotted his copybooks, and his mother's quick temper was often lost. In her eyes he was nothing but a lazy good-for-nothing. A summerhouse had been constructed for the children on the edge of the lawn down by the River, where many of their classes were taken on sunny days. The villagers on the tow-path opposite were always able to see the youngsters scribbling away, while Lady Hoby walked sternly between them, watching over every letter. One gossip even related, over a pint of beer, how he had once heard violent shouts coming from the bower. On investigation, he clearly saw her Ladyship beating little William about the head with her ruler until he collapsed and fell to the ground. Blood streamed from his eyes, nose and mouth and saturated the grass.
Sadly, this was to be William Hoby's lot in life. He was always slow and clumsy, and could never live up to his mother's expectations. It was even rumoured amongst some of the locals that the little boy had some sort of brain tumour.
It happened one day that it was too cold for lessons in the summerhouse, so Elizabeth Hoby took her children up to the warmth of the Abbey's tower room. For the elder children the class passed quickly and they were soon sent off to play; but poor William had got behind in his work and had to stay to finish it. Lady Hoby was already annoyed by her son's stupidity, but then...Splat, Splat! William had pressed too hard on his quill again: the ink surged from the pen and spread over the page in front of him. To Lady Hoby the blots personified all that was wrong with the World. The ruler rose high in the air and came down like a rocket: "Crack!" on the little boy's head. William wailed in pain as he fell to the floor. Again and again his mother beat him, till the blood ran once more. Eventually she halted. Her hands were covered with gore, but her anger had not yet been fully vented. Fetching some rope, she dragged poor William back up into his chair. There she secured him, tying the rope around his waist and legs. Finally she thrust the quill back into his hand and the copybook into his face. "You will re-write every word of today's lesson, and it had better be perfect in every way, or you know what will happen!" she announced. Then she spun out of the room with a flurry. Slam! went the door, and Click! went the key in the lock.
Still fired up by the mornings events, Lady Hoby had a horse saddled and off she thundered into Bisham Woods. The chase would vent her fury. Soon after she left though a messenger arrived at the Abbey with a letter from the Queen. It was said to be urgent, so a page rode out to deliver it Lady Hoby at once. Her Ladyship was puzzled to see one of her servants ride up beside her, but her confusion turned to joy when she read the Royal message. She had been summoned to Court by Queen Elizabeth and was ordered to leave without delay. "Come," she said to the young page, "We must go at once." So off they rode to Windsor, without a thought for packing or saying goodbyes.
Lady Hoby revelled in Court life: the banquets, the balls, the handsome young men, the flirting, the flattery, the compliments, the gossip, and the envious eyes that poured over her friendship with the Queen. So, as you can imagine, it was several days before she felt ready to return home to mundane Bisham Abbey. She was not surprised when all her children but William ran out to greet her. He was probably sulking in his room. The child had no backbone. So Lady Hoby asked after her youngest son. "We thought he was with you, M'm," came the reply.
You can imagine how shocked the lady was to hear this news. If the servants had thought William was with her, then...Lady Hoby jumped down from her horse and raced up to the Tower Room; but, of course, it was far too late. Little William was dead.
Lady Hoby was filled with remorse for her wicked actions. If only she had not been so selfish, so strict, so violent, he would still be alive. She spent the rest of her life in sorrowful misery. Shortly after her death in 1609, her repentant ghost was seen wandering through the house. Lady Hoby has been seen many times since. A miraculous fountain floats before her and, not unlike the evil Lady Macbeth, she tries constantly to wash the accusing blood stains from her hands. She is especially known for her appearances in the Tower Room at the time of a Coronation, when she shows her guilt at choosing her monarch over her son.
Folklore or Fact?
What can be seen today?