RBH Home
Maps & Travels
Articles
Legends
Towns & Villages
Castles & Houses
Churches
Biographies
Gentry
Family History
Odds & Ends
Mail David

The Headless Victim
Places to Go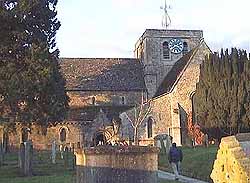 You may not be able to see Hampden Pye's ghost any more, but you can still visit the churchyard in Faringdon that he used to frequent. All Saints Church stands at the head of the little town of Faringdon, across the top of the market place with its delightful little market-hall. It is one of the richest churches in Berkshire if you are looking for history. Amongst its memorials are several to the Pye family. Faringdon House is very close by to the north of the church, and there is a fine view from the churchyard. Unfortunately, however, this was not the building in which Hampden lived. It was built by one of the later Pyes between 1780 and 1785.
"The Ingoldsby Legends" was a very popular book in Victorian times and old copies are quite common. The poetic "Legend of Hamilton Tighe" appears in his first series and, though rather short, is well worth a read:
That Admiral, Lady and hairy-faced man
May say what they please and may do what they can;
But one thing seems remarkably clear:
They may die tomorrow or live till next year,
But wherever they live or whenever they die,
They'll never get quit of young Hamilton Tighe!
Back to: The Ghost of Hampden Pye
Back to: Discussion of the Legend