RBH Home
Maps & Travels
Articles
Legends
Towns & Villages
Castles & Houses
Churches
Biographies
Gentry
Family History
Odds & Ends
Mail David

The Forbury Gardens
The Forbury, Reading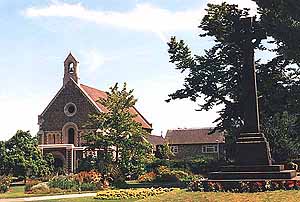 The Forbury was the unspoilt open ground belonging to Reading Abbey and enclosed within its walls. It was sometimes used for trading fairs which continued even after the dissolution of the monastery. The land was never built on and was purchased by the borough for use as a public park in 1835.

The Abbey Church of Reading was a vast building, only fifty-foot shorter than the present St. Paul's Cathedral in London. It would have covered most of the south-east corner of today's Forbury Gardens: the West Front shooting into the sky just in front of Henry I's modern memorial cross. The north transept is buried beneath St. James' Roman Catholic Church and the choir and high altar, where King Henry lies buried, have been built upon by the adjoining school. Only the ruins of the South Transept remain.

Architectural details discovered both by excavation and careful examination of the existing walls reveal that much of the Abbey Church remained, until the dissolution, a Norman masterpiece as originally built in the 1120s. It would have been a chunky building with scrolling carved details, interlaced semicircles and dog-tooth decoration. There would have been a massive central tower and probably (though not certainly) smaller twin turrets flanking the West Front. Some or all of them probably had short steeples above. It probably resembled the present church at Southwell Minster in Nottinghamshire.