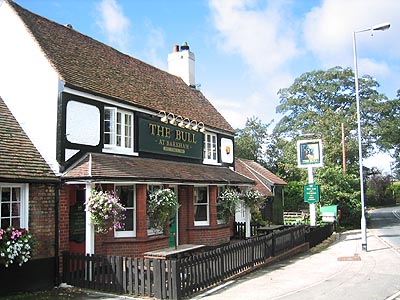 Barkham
Big Families in Barkham
Barkham means 'Birch Tree Home'. In the 1240s, the manor was owned by a family who took their name from the place. However, in 1248, John de Barkham conspired with a certain John de Bendinges of Winchfield to have a band of robbers attack two Brabant merchants in Alton Woods (in Hampshire). They relieved them of 200 marks (£133-3s-4d). The two Johns were arrested soon afterwards and tried in Reading. John de Barkham managed to escape to Scotland, but he was still outlawed and Barkham was confiscated by the King. The manor's income helped to pay for the building of Windsor Castle.
The Bull Inn at Barkham is named after the Bullock family of Barkham and Arborfield who were Lords of both Manors for several centuries. When in Barkham, they lived in the manor house, Barkham Court, that was once surrounded by the old moat next to the church. Here can be seen the late 13th century wooden effigy of Agnes Bullock, daughter of Sir Thomas Neville, from whom the family inherited this estate. (They were not related to the famous Nevilles of Bisham, Billingbear & elsewhere). Their ancestor, William Neville, was the valet to St. Thomas Cantilupe, the Bishop of Hereford, who sold him the manor in 1279. Another great family of the parish were the Kingsmills who, after the Dissolution of the Monasteries, lived at Sydmonton Court in North Hampshire. Their original home was Langley Pond Farm - erroneously called Langley Manor - in Barkham.
In the 1350s, Barkham appears to have been used as some sort of depot for the transportation of timber from Windsor Forest to Westminster Abbey where it was used in the rebuilding of the choir roof.
Barkham is often quoted as being the home of the ancestors of President George Washington's mother, Mary Ball. There was certainly a well-to-do family of Ball living in Barkham from at least the late 15th century to well into the mid-17th century. The most famous member was William Ball, a well-known Roundhead lawyer who wrote a number of political pamphlets. He was a relative of the Standens of Arborfield Hall. However, he was not the great grandfather of the famous Mary Ball, who is supposed to have left for Virginia in 1650. The Barkham man died in Holborn in 1647 with a family of at least seven. The eldest, another William, apparently moved to Bracknell.