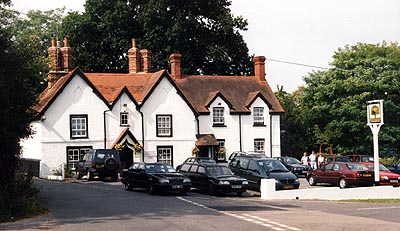 Finchampstead
Stopping Place for Kings & Queens
Finchampstead's fine parish church is largely of 12th century date and still retains a number of interesting Norman features: a pillar piscina, a font, and an apse, unusual for Berkshire. The site is somewhat older, however, for the building sits on a prominent hill within what has always been thought to be a Roman earthwork of some kind. It is probably the enclosure of a Roman temple which was later taken over for Christian use. It stands in an ideal position, just off the Devil's Highway running between London & Silchester - a mile stone for which was discovered in 'Six Acres' field in 1841. Alongside is the Queen's Oak, the only inn of this name in the country. Stories of Roman remains beneath its floors have led to its claim of being the oldest pub in the country. It could well stand on the site of a Roman hostelry set up to service pagan pilgrims. A Roman building & enclosure, west of the church, may also be associated with the temple complex. One legend says that the Emperor Magnus Maximus stopped in Finchampstead on his way to London and thus to the continent to claim his throne in AD 383. He was a Spaniard by birth, but became commander of the Roman army in Britain where he married a local girl and settled down, prior to being elected Emperor by his troops.
The spring known as Dodwell's (or Dozell's) Well on Fleet Hill is named after St. Oswald, King of Northumbria (r. AD 634-641). He travelled through this village on his way to meet King Cynegils of Wessex at Easthampstead, and, feeling thirsty, prayed for water. The Holy Well instantaneously sprang up. It is recorded in the Anglo-Saxon Chronicle of the year 1098 that:
In this year. . . during the summer, in Berkshire at Finchampstead, a pool of blood welled up, as many truthful men said who had seen it.
and in 1102:
This year. . . at Finchampstead in Berkshire was seen blood from the earth. This was a very grievous year in this land, in manifold taxes, death of cattle, and perished crops, both corn and all fruir; also in the morning of St.Lawrence's Day the wind did more harm than any man ever remembered before.
The well was famous in the early middle ages for flowing blood like this at times of national disaster. At other times it was said to have marvelous curative powers, especially for eye complaints. The well was accidentally destroyed in 1872 by deepening of the ditch, but there is still a constant trickle of water from the spot.
Finchampstead was the centre of a bailiwick of Windsor Forest and included the three 'walks' of Sandhurst, Bigshot (Northern Crowthorne) and Easthampstead which were stocked with red deer for the King's entertainment. From the late 13th century, the parish contained two manors since the lands of the lord of the manor, William Banister, became divided between his two daughters. Constance took East Court, near the church, of which only a 17th century wall remains, and Agatha had West Court. East Court later passed into the hands of the Foxleys of Foxley Manor (Touchen End) and Bramshill Castle (Hampshire). They were bigwigs at the Royal Court in Windsor and have fine brass memorials in the Church at Bray. Their descendants sold up to the Pakenhams and it was probably Sir Edmund Pakenham's two daughters, Constance and Elizabeth, who are the subject of an old story about East Court. It is said that King Henry VIII was a frequent visitor to the manor since he had amorous designs on a daughter of the house. Her elder sister, however, was madly in love with the King herself and, in a fit of jealous rage, threw herself off the balcony in front of him in order to prevent her rival becoming Queen of England. Of course, neither of these ladies actually committed suicide and both went on to gain 'unroyal' husbands. Constance, the elder, married Sir Geoffrey Pole, son of the last of the Plantagenet's, the Countess of Salisbury from Bisham Abbey; and Elizabeth, the younger, married Justice Sir Edmund Marvyn, an uncle of Lady Marvyn (formerly Mrs Perkins)'s husband. West Court is a fine 17th century building which, before improvements made in 1835, still had a moat and a drawbridge! It was taken on by Lady Marvyn's relatives, the Perkins family of Ufton Court before they sold it to the Tattershalls, well known catholic recusants, who were resident there when called to the Heralds' Court in 1664 to prove their rights to the Tattershall coat of arms. These arms are still prominently displayed on the superb carved fireplace in the drawing room of the house. Cousins of the original Banister line lived at the sub-manor of 'Banisters' which they were supposedly given in reward for betraying the Duke of Buckingham to King Richard III in 1483 (this story appears to have been transferred from one of their Staffordshire homes). The warden of the ecclesiastical Hospital of God's House in Southampton also once had a house in Finchampstead.
Prince Arthur is supposed to have been hunting on the Ridges, at Finchampstead, with his father, King Henry VII, when he heard of the arrival, in England, of his fiancée, Catherine of Aragon. They immediately rode out to meet her, but found their way barred by a party of Spanish cavaliers who insisted that, according to Spanish tradition, the Prince could not look upon his bride until after they were married. The King would have none of this, rode on to Dogmersfield Park (Hampshire), where the lady was staying, and arranged for her coach to ride along the Ridges, where Catherine raised her veil for her awaiting groom. The marriage was thus cursed and Arthur died not long after exchanging vows. A plaque in Longwater Lane now commemorates these events.
Today the most famous feature of the Ridges is the Wellingtonia Avenue, leading to Wellington College in Crowthorne. The superb double row of Wellingtonia trees was planted by John Walter (of Bearwood & The Times) as a monument to the 1st Duke of Wellington in 1869. They rival the Duke's column at Heckfield (Hampshire) and his equestrian statue at Aldershot (Hampshire) as his most spectacular memorial.