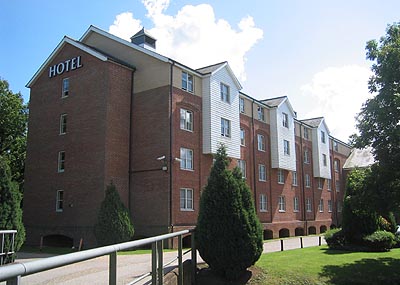 Sindlesham
Conflict over Christian Worship
Often called 'Sinsham' in centuries past, this area probably is best known for its four-storeyed 'mill', an extension to the original, all of which is now an hotel. Opposite is 'Nirvana', one of the country's finest leisure spa complexes.
The old church here was originally a chapel-of-ease. It was built by Robert de Sindlesham, in 1220, because he didn't think much of the muddy trip he had to take to the mother-church at Sonning. The Vicar of Sonning, however, protested for he lost all the revenue from his Sindlesham parishioners. The matter was eventually settled when Robert agreed that the chapel should only be used for himself, his family and servants. The peasants would have to walk to Sonning. This building has, however, long disappeared and Sindlesham has since been served by St. Catherine's at Bearwood. A new chapel was built near the Georgian Sindlesham House (or Lodge) in 1964. Standing on the site of the original manor-house, the home of both Robert and his kinsman Sir Robert de Sindlesham, it is now the headquarters of the Berkshire Freemasons. There was a second minor manor at Lee Farm which, from the 14th century, was the home of the Restwolds of High Head Castle in Cumberland. They apparently found life up North rather remote and favoured Sindlesham Lee as their chief residence, particularly Richard Restwold Junior (d. 1475) who was a prominent Yorkist lawyer in Berkshire, Buckinghamshire and Oxfordshire working for, amongst others, the Earls of Suffolk and of Salisbury.

An old story tells how 'Devil's Island,' in the River Loddon near Sindlesham Farm, got its name. The place was once joined to mainland an cultivated by a local farmer. However, one day he was busy haymaking when his wagon and horses completely disappeared. They had been drawn into the river by the Old Nick himself!
Bearwood House stands at Sindlesham. This vast Victorian Jacobean-revival mansion was built as the family home of John Walter III, proprietor of the Times newspaper at the height of its reputation, in 1864. The architect was Robert Kerr. Since 1921 it has been a school, originally for boys wishing to enter the Merchant Navy. The estate was original purchased by John Walter II, the paper's founder, around 1830. He built the church of St. Catherine on the edge of the village. It was named after his daughter.