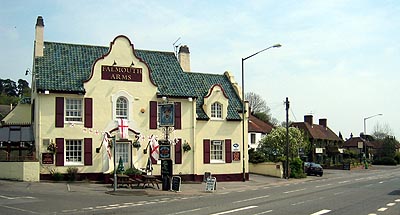 Woolhampton

Celts, Criminals & Catholics
The original form of the name of this village was 'Ollavintone'. Clearly the ending is the common Saxon suffix, -ton meaning simply 'settlement', from which the modern word town is derived. However, the rest of the name appears to be its proper Celtic title. It was probably something like Alebhion meaning 'Ridge Place' and referring to the high ground in the parish which stretches alongside the Kennet Valley and the Bath Road.
The church of Woolhampton was almost entirely rebuilt and refitted in 1857. Thus it has now lost, what may have been, the most interesting font in the county. It was apparently a 12th century carved stone vessel featuring lead figures, probably saints: one was a man with a book and key (St. Peter). It has long been said that this object is safely buried beneath the church floor, but no-one has ever discovered it.
Woolhampton was well known for its coaching inns, one of which was the scene of the capture of the infamous highwayman, Captain Hawkes. This man was best known for his vast array of disguises, which he used to discover who was travelling the roads with valuables worth acquiring. It was after one such performance, however, that he was finally caught. He had lulled a pistol wielding gallant into a false sense of security by dressing as a pious quaker at an inn in Slough. The brash young man boasted of his wealth and the power of his guns, but later, on the road in East Berkshire, he found himself unarmed and facing a, familiar, but dangerous highwayman. Delighted with his haul, Hawkes rode on to Woolhampton where he rested at the old Sun Inn. While there, a fight broke out in the bar between two locals. The captain tried to intervene, onlt to find himself amid red-breasted bow street runners who promptly arrested him.
Woolhampton House (now Elstree School) was the main home of the Wollascott family since the mid-16th century, although they also owned the manors of Brimpton, Shalford, Shinfield and Sutton Courtenay and some generations preferred to live at the last two houses. In 1755, the Earl of Fingall married the Wollascot heiress and thirty-one years later, they sold their Woolhampton estates and settled in Ireland. Though, in 1831, their son, who had been born in the village, was created Baron Woolhampton of Woolhampton Lodge. Both families were catholic and had maintained a chapel at the house. So, in order that the local catholic population should continue to have somewhere to worship, Lord Fingall gave his chaplain seven acres of lands and a number of cottages, including Woolhampton Lodge and chapel. This stood on the site of the entrance tower to Douai Abbey School. St. Mary's School was established at the lodge in 1829 and a large building programme ensued. This was merged with the Benedictine community of St. Edmund when they were expelled from Douai in France in 1903.