RBH Home
Maps & Travels
Articles
Legends
Towns & Villages
Castles & Houses
Churches
Biographies
Gentry
Family History
Odds & Ends
Mail David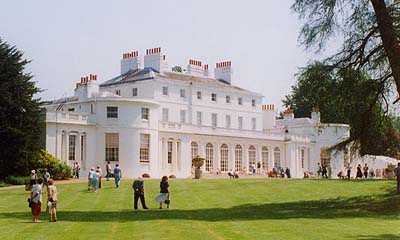 Frogmore House
Windsor, Berkshire
Frogmore House, in the Home Park at Windsor, was built by Hugh May in 1680 for his nephew, Thomas, and the latter's wife, Anne Aldworth. It was a handsome seven-bay brick edifice with a pedimented entrance front on the east side.
After being leased by Charles II's illegitimate son, the Duke of Northumberland, the place was eventually purchased by Queen Charlotte in 1792. The building was altered and extended for her by James Wyatt and the Queen spent much of her leisure time here during the day. After her death it became the home of her daughter, Princess Augusta, before becoming part of the Royal estates. Queen Victoria let her mother live there and, in her own widowhood, she often worked on her state papers at the house. It was an early home of King Edward VII when Prince of Wales, and his eldest son, prince Albert Victor, was born here. The house is still regularly used by the Royal family today.
Frogmore House is a private residence belonging to the Crown.
It is open to the public on a select number of days during the Spring.