Bisham Church
Monumental Brasses
West Wall & South Wall of Tower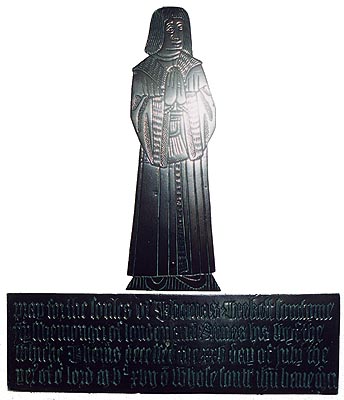 This brass is to the memory of Thomas Crekett (1517). He once had a wife and child depicted alongside him. They are now lost, but a rubbing of the lady exists. His effigy is 15½ inches high. He is depicted as a civilian in long fur edged robe with very deep sleeves, and showing a gypciere or purse attached to the girdle. There are almost identical effigies in both the churches at Brightwalton and Cookham. The inscription reads:
Pray for the soules of Thomas Crekett somtyme Fysshemonger of London and Annes his wyf the whiche Thomas decessed the xxv day of July the yer of O Lord MVCXVII o whose soull jhu have mcy.
The Fishmongers Company was a very ancient one dating back to 1384, although it does not seem to have been properly incorporated till 1586. It consisted of the Stock Fishmongers and the Salt Fishmongers. The arms of the former being, azure two luces in saltier argent with coronets over their mouths. The arms of the latter were gules, three pairs of keys saltier-wise or, on a chief azure, three dolphins embowed argent, but the two companies were united in 1536 when they obtained a charter from King Henry VIII, and the arms are now an amalgamation of the two formerly used. Azure, three dolphins embowed in pale between two pain of sea luces saltirewise, crowned or, on a chief gules, six keys, in three saltires, of the second.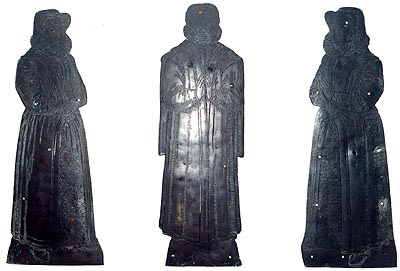 This brass, under the tower, is to John Brinckhurst and his wives, and dated 1581. He was a Merchant Adventurer and his inscription is in Roman Type, also one in Latin and three Latin Mottoes.
Miserecordiam Impetramus Non Insticiam
Haines gives the translation of the Latin as follows:
Ut Rosa mane viget, tamen et mox vespere languet Sic modo qui fuimus pulius et umbra sumus.
This refers probably to the transitory nature of the life of man "who flourisheth as a flower of the field."
The date of his death and of his wife Jane, has not been filled in.
He is wearing a doublet, buttoned close, with a long gown reaching to the feet, and with false sleeves hanging down from behind his shoulders. The two wives are wearing "paris head-dress" or close cap and with a lappet or veil hanging behind. The front of their dresses are open, showing the petticoat ornamented with very elaborate patterns.
His will dated 1572 is at Somerset House. The Merchant Adventurers Company was incorporated by Queen Elizabeth in 1564.
Description edited from H.T. Morley's 'Monumental Brasses of Berkshire' (1924)