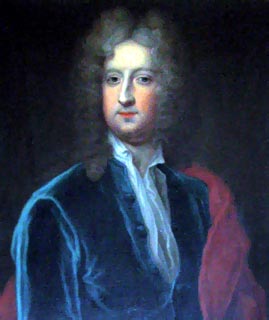 Henry St. John (1678-1751)
Born: October 1608 at Battersea, Surrey
Viscount Bolingbroke
Died: December 1751 at Battersea, Surrey
Lord Bolingbroke, only son of Sir Henry St. John Senior of Lydiard Tregoze (Wilts) and Lady Mary, daughter of Robert Rich, 3rd Earl of Warwick, was educated at Eton. He probably never went to a University, though tradition would have it that he was at Christ Church. At any rate, he soon made a name for himself as one of the most reckless and accomplished rakes in London. The stories told of his hard drinking, of his innumerable amours and his wild escapades prove that he attained the pre-eminence which always awaits a great man who turns his serious attention to commonplace occupations.
After the usual continental tour, he entered Parliament, in 1700, as member for Wootton Bassett. The brilliance of his oratory at once won him the attention of the House. Though none of his speeches were preserved, their fame remained a tradition for three generations and caused Pitt to declare that he would rather recover one of them than the lost decades of Livy. St. John soon became the invaluable supporter of Harley and the fast friend of the Duke of Marlborough, with the result that he was made Secretary-at-War when the moderate Tory party came into power in 1704. His natural quickness of intelligence and readiness of wit enabled him to deal effectively with any business set before him. In later years, his friend, Jonathan Swift, was constantly amazed at St. John's capacity for combining riotous pleasure with the perseverance and industry of a clerk. When Harley was dismissed, as the Ministry tended to become more and more Whiggish, St. John affected to retire to the study of philosophy at his country home, Bucklebury House in Berkshire, the family seat of his wife, Frances, eldest daughter & co-heiress of Sir Henry Winchcombe, bart. He was, however, considerably piqued by the refusal of his friends to take his pose seriously. Nevertheless, he maintained his relations with Harley and was appointed Secretary of State, when the Tories came into power again in 1710 and he sat as MP for Berkshire.
The alliance was always incongruous and certain to be ephemeral. St. John chafed at his colleague's caution and was jealous of the popularity which accrued to him after Guiscard's attempt at assassination. Hence, when Harley became Earl of Oxford, St. John, now unfettered in the Commons, began to push forward his own policy of stopping the war. In the tortuous negotiations which followed, he was the moving spirit. He brought about the fall of Marlborough, issued secret orders to Ormonde to abstain from attacking the French and eventually concluded peace on terms which, on his own admission, were far less advantageous than England's position warranted. For one thing in the peace he deserves real credit, for he introduced a clause in favour of a commercial treaty with France which, had it not been thrown out by the jealousy of the English merchants, would have proved of inestimable benefit to both countries.
St. John's breach with the Whigs was now final and irrevocable. As Queen Anne's health steadily declined, it was plain that St. John had nothing to gain from a Hanoverian succession, which would inevitably make them omnipotent; and he therefore opened negotiations with the Jacobites. Oxford would not commit himself to the bold measures which alone could ensure success and St. John, who had been created Viscount Bolingbroke in 1712, began to intrigue with Lady Masham for his colleague's overthrow. Eventually Oxford was dismissed on 27th July 1714, but Queen Anne died five days later, before Bolingbroke's plans were yet ripe. He summed up the situation to Swift with his usual philosophy, "Oxford was removed on Tuesday, the Queen died on Sunday. What a world this is! And how does fortune banter us!" At the age of thirty-five, his career as a statesman was ended.
One of the first actions of the Whig ministers was to attack the authors of the treaty of Utrecht and Bolingbroke fled in disguise to France. An Act of Attainder was passed and his name was erased from the roll of peers. His only refuge was the Court of the exiled James Ill, where he obtained the position of Secretary of State. The extravagant and ill laid schemes of the exiles revolted his practical sense as much as their religion stirred his cynical contempt. Yet, for a time, he worked in the interests of James because they coincided with his own, until his wise efforts to hinder Mar's rising brought upon him a charge of treachery. With little reluctance, he parted from the Jacobites forever. He continued to live in France, amusing himself with literary compositions and the study of philosophy. In 1720, his first wife having died, he married Madame de Villette and bought a small estate near Orleans. He also made the acquaintance of Voltaire, who professed great admiration for his talents.
At length, in 1723, he obtained the pardon for which he had long been striving, but his seat in the House of Lords was not restored to him. Settling down near Uxbridge, he divided his time between the occupations of a country gentleman, literary intercourse with Pope and obscure excursions into politics. By means of a series of letters in 'the Craftsman,' he attached himself to the opponents of Walpole, whom he detested; but, in 1735, he suddenly withdrew once more to France, disgusted by the failure of his efforts and the distrust with which even his allies regarded him. Three years later, he tried to join the opposition party headed by the Prince of Wales and, with this objective, wrote 'The Patriot King'. His influence had, however, vanished and he had few friends.
The last years of his life were spent at Battersea, still chiefly occupied in literary and political controversy. In 1750, his great and genuine grief for his wife's death further weakened his declining health, and he himself died of cancer in the following year.
Bolingbroke has been well called the Alcibiades of English history. His personal character presents few agreeable traits. He was ambitious, unscrupulous, faithless, devoid of any kind of morality or any trace of religion. It does not raise one's esteem for the 'High Churchmen' of the later years of Queen Anne's reign that they could take such a man for a political leader, though his 'Occasional Conformity Act' and his really iniquitous 'Schism Act,' both directed against the dissenters, were no doubt pleasing to them. His philosophy was always that of a dilettante and usually that of an opportunist. Yet the extraordinary political ability and audacity of mind which rendered him the greatest young man of his age, coupled with his brilliance as an orator and a stylist which won the praise of Pitt and Chesterfield, lend an irresistible fascination to his personality by removing it so far above the commonplace.
Edited from CRL Fletcher's 'Historical Portraits' (1911)