Archer, Bottrill & Fuller Paint Merchants
49 Broad Street & Elsewhere, Reading
A Short History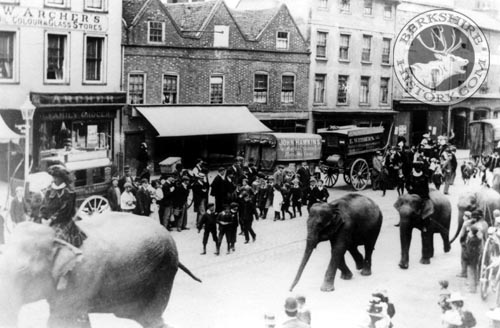 Archer's Stores
49 Broad Street, etc
John Winter Pidgeon (1772-1856) came from Henley to open his 'Grocery & Italian Warehouse' at 'Brown's Hill,' 20 Middle Row in Reading some time before 1812. Bizarrely, he later expanded his range of teas, hams, tongues, pickles, sauces, etc to include paints, Roman cement, plaster of Paris and Dutch tarras. The paint side of the business must have flourished, as, by the 1830s, the shop was known as Pidgeon & Son, 'colourmen,' his son, Charles (1812-1879), having joined him in a partnership until JWP retired in 1852. His sister, Jane (1805-1884), also worked in the shop, and, in 1860, he hired an assistant, William Archer (1837-1900), the son of a farmer from Sydmonton, near Kingsclere (Hampshire). In 1862, Charles Pidgeon moved his business to 49 Broad Street & 1-2 (later renumbered 20-21) Union Street. The place was advertised as the "Original Oil & Colour Warehouse: Charles Pidgeon has a large assortment of lead, zinc, iron and anti-corrosion paints, with the purest oils, and every article required in the business, which he can offer at the lowest possible prices. Empty oil casks for water casks and farmer's use." Mr. Pidgeon died in 1879 and William Archer's purchased the business three years later.
The shop became known as Archer's Oil, Colour & Glass Stores and, for many years, stood sandwiched between the theatre/cinema and H Samuel's, with the entrance to Union Street running straight through the western side. The business prospered and Archer was able to purchase a fine home for himself in Eldon Road. When not running the shop, he was a Sunday School teacher at the London Street Chapel and, for 35 years, was the treasurer of the African Missionary Society. After his death, the business became a real family affair, being chiefly run by his widow, Sarah Ann (1839-1916) and eldest son, Richard William (1867-1934), along with three daughters assisting and the youngest son, Harry (1880-1928) doing the accounts. Unfortunately, by the early 1930s, the siblings had all died childless, and it was left to the last spinster sister, Eliza (1875-1946) to find a way forward for the company.
John Bottrill & Son
35 King's Road, etc
The origins of John Bottrill & Son's builders' business lie in a firm first established by James Matthews (1818-1892) at 33 King's Road South (part of Lansdowne Place) in 1845. This was the premises on the south side of the road, immediately adjoining the western side of the bridge over the Kennet. Because of the rapid growth and constant redevelopment of King's Road in the 19th century, numbering could change slightly in a localised area. No 33 quickly became No 35. There were also two major renumbering schemes. No 35 became No 58 in 1874 (when the western end of the road shifted northwards) and No 78 in 1902.
James Matthews described himself as a builder and carpenter, sometimes as an undertaker as well. He employed twenty-five men and two boys, and they worked on the restoration work at Caversham Church in 1857. In April 1874, James sold his business to Charles Filewood (1835-1912), a builder's foreman from Pinkney's Green, and retired to 'Hartleigh' in Eastern Avenue in Earley. He continued the business for nearly forty years, in which time he erected both St Andrew's Presbyterian Church & the Wycliffe Baptist Church. For several years, his assistant was McCarthy Edward Fitt (1856-1915), who married his daughter and became owner of the 'monumental works' at 133A London Road, on the site of the present Co-Op building at Cemetery Junction.
Filewood lived at 'Carisbrooke' in Bulmershe Road in Earley for a while, but his wife was from Maidenhead and they lived in Boyne Hill for best of their lives. In April 1881, he sold the Reading business to John Bottrill and, instead, entered into partnership, as Silver, Sons & Filewood, with Richard Silver, Joseph Love Silver & James Edward Silver. They built St. Joseph's RC Church in Maidenhead, but the partnership was dissolved in April 1885.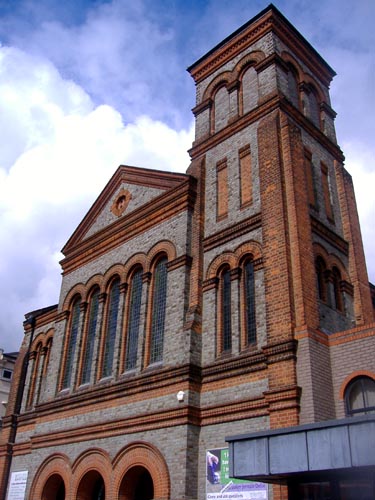 John Bottrill (1840-1898) was a joiner who came to Reading from Rugby in the 1860s. When he purchased the business, stock and machinery, he confidently announced that he was, "prepared to undertake the execution of any works which may be entrusted to him. The appliances at his command will enable him to carry out his commissions with promptitude and economy."
By 1887, his son, John Thomas Bottrill (1864-1937), had joined him in a partnership, and John Bottrill & Son opened a second builder's yard at 136 King's Road and then, three years later, a branch works at 3 Blenheim Road. However, in March 1903, there was a major overhaul of the business and it was decided to relinquish the building contractor's and become a builders' merchant instead. There was a large auction of all their timber stock, machinery & plant. They moved from King's Road and opened a trade depot in Le Bohun Road and a wallpaper shop at 23 Cross Street. There was, however, a return to building contract work, in partnership with John Dawtrey (1854-1936) from Chichester, probably their old building manager. Bottrill & Dawtrey were based at the Broadway Buildings in Station Rd at least between 1911 &1920, but it was totally separate from the builders' & wallpaper merchants which continued independently.
In 1915 the Reading Corporation agreed to purchase De Bohun Rd premises, although this transaction took four years to complete. In the 1920s, both sides of the John Bottrill & Son business were relocated to 175 Friar Street (on the corner of the Market Place), the depot specialising in Walpamur water paint, Teolin enamel & Royal Counties white distemper. Following the Great Depression of the 1930s and the death of John T Bottrill at his home at Beaufort Lodge in Eldon Road, his son John Strange Bottrill (1894-1963), decided to enter into a three-way partnership with William Archer and John Fuller in 1939.
John H Fuller & Co Ltd
51 Minster Street, etc
John Henry Fuller (1838-1902), from Ashampstead, first set up a grocery business at 112 Broad Street in the mid-1860s. In 1866, he took over Thomas Day's fifty-year-old grocery store at Nos 51-52 Minster Street, where he turned to specialising in paints. Between Nos 51 & 49, was an archway through to Minster Mill Lane leading to Silk Court and the Minster Mills (No 50, although there were later variations). The main old mill building was where Fuller carried out his business of colour grinding, varnish & enamel manufacturing, oil & motor grease refining, as well as brush manufacturing, to supply the shop. He won medals for the performance of his main brands, Marpedo water-based paint and Antirot wood preservative.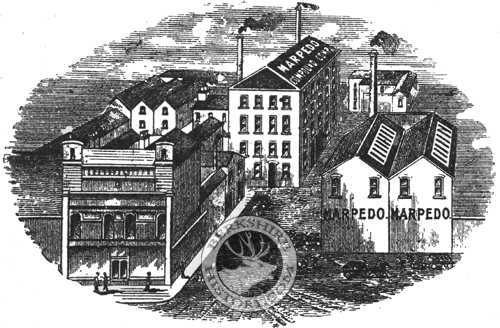 In August 1880, there was a minor fire the mill and the local residents were not best pleased when Mr. Fuller dismissed their concerns over safety, for "it is much to be feared that there are many articles of a combustible nature stored in and about the Minster Mill which, once ignited, would burn with great intensity, so as to render it impossible to prevent the fire from heating the tanks containing petroleum and gunpowder, which are within a few yards of the mill, and if those exploded there would be very little left of Minster Street."
Four years later, the mill area was described thus: "There is on the left hand side of Minster Mill Lane a place called by [some] a warehouse, but it is a place where bottles are washed. There is an old stable, in a dilapidated condition in which ... claret is stored. There are two cellars. Then on the other side of the line there is a yard and a dilapidated shed. It is an old blacksmith's shop, and will come down. Practically that is nothing more than a yard."
The business was later taken over by his son and namesake, John Henry Fuller Junior (1865-1944), whose own eldest son and right-hand man in the business, 2nd Lieut. Cyril John Fuller (1896-1916), was killed during WW1 at the age of only nineteen. His younger son, Harry James (b. 1900), had somehow managed to join the Army at only fifteen, but was wounded and sent home. From 1904, the firm was officially called John H Fuller & Co Ltd, and they added wallpaper to their stock, including a 'Minster Series' of patterns.
Archer, Bottrill & Fuller
49 Broad Street, etc
Just before the outbreak of WW2, these three companies merged to form Archer, Bottrill & Fuller's, with their paint shop at what continued to be called simply 'Archer's Store,' on the corner of Broad Street & Union Street, and a trade depot at 2 Merchant's Place. The Minster Street shop suffered considerable collateral damage from the two bombs that dropped either side of it in 1943 was closed after the War. Around the same time the depot was transferred to Walpamur (aka Trinity) House 114-16 Oxford Road (until recently home to Richer Sounds). The trade section of the business was wound up in 1966, but the shop continued to sell an interesting mix of paint, glass, DIY equipment and household items until the company was finally dissolved in 1980.