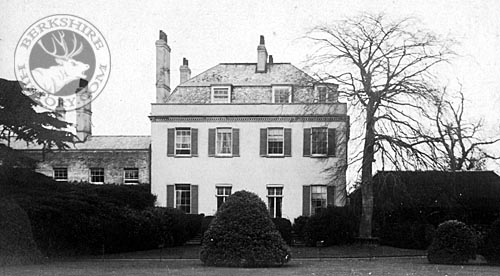 Woodley House
Woodley, Berkshire
Woodley House appears to have originated as a farm inherited by James Wheble Senior from his Reading maltster uncle in 1771 and, six years later, he is said to have built the house illustrated right. However, in 1789, the place was purchased by Henry Addington, along with the adjoining manor of Bulmershe. The son of a Reading Doctor, Addington was Speaker of the House of Commons and, later, rose to be Prime Minister before finally being created Viscount Sidmouth. He did not favour Old Bulmershe Court, which he let and to tenants, but centred his new estate around Woodley House, which he extended and improved. In 1801, however, when he became Prime Minister, he sold the house back to James Wheble Junior and moved to White Lodge in Richmond Park. However, Addington retained links with Woodley through his command of the local Woodley Cavalry, formed during the threat of the Napoleonic Wars, and through his father-in-law, Lord Stowell who lived at nearby Erleigh Court.
Wheble changed the name of the house to Woodley Lodge. He engaged J.C. Loudon to landscape the park and the family lived there for another two generations. The family were catholics and there was a catholic chapel associated with the house. James Wheble's son made additions, such as the billiard room containing a fine table purchased at the Great Exhibition of 1851; but, eventually, the estate was sold in 1926. By now called 'Bulmersh Court,' the house was used by the Ministry of Defence during World War II, but by 1960, was derelict. It was pulled down in 1962 to make way for Bulmershe College.
The house should not be confused with the original manor house of Old Bulmershe Court, now Bulmershe Manor.
Woodley House alias Woodley Lodge alias Bulmershe Court no longer stands.