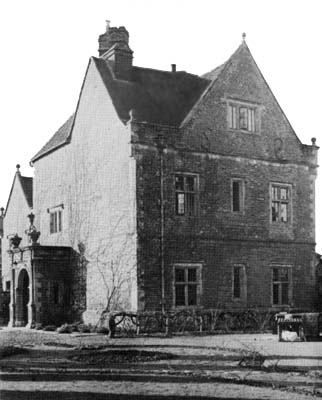 Old Bulmershe Court
Woodley, Berkshire
Bulmarsh or Bulmershe, in Woodley, first appears in existing records in the 12th century, although the area may not have become a manor until 1447 when it was granted to Reading Abbey. After the Dissolution of the Monasteries, the land was acquired by William Grey, the poet. He probably built the first house here, the remains of which may be the basis of the present building.
It was through William Grey that Bulmershe became the main residence of the famous Blagrave family for over two hundred years. Grey's wife, Agnes, was widow of Robert Blagrave, a merchant of London and Reading and their son, John was Grey's heir. John's son and namesake was a famous mathematician and his grandson, Daniel, one of the Cromwellian Regicides; but they were both relegated to live at the secondary residence of Southcote House, while the chief branch of the family resided Bulmershe. The family has several monuments and their own vault in Sonning Church, but the main branch finally died out in 1789, when the estate was sold to the Speaker of the House of Commons, Henry Addington (who later became Prime Minister and Viscount Sidmouth). He, however, preferred to live at Woodley Lodge and the house was let out to tenants.
In the early 19th century, the old house was in a state of considerable disrepair . So much so, that almost two-thirds of it had to be demolished. The remaining structure was turned into cottages. By 1925, even this last portion had almost collapsed from neglect, but luckily it was fully restored using many architectural features from the recently gutted Billingbear Park. It is now known as Bulmershe Manor.
Old Bulmershe Court alias Bulmershe Manor is a private residence.