RBH Home
Maps & Travels
Articles
Legends
Towns & Villages
Castles & Houses
Churches
Biographies
Gentry
Family History
Odds & Ends
Mail David

Faringdon Church
Effigial Monumental
Against the North Wall of the Unton Chapel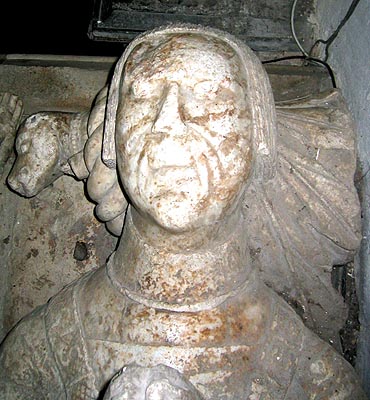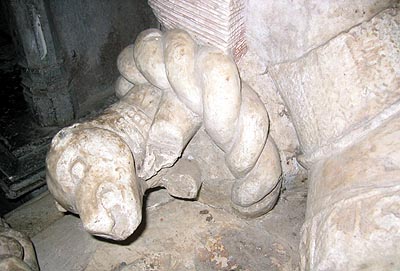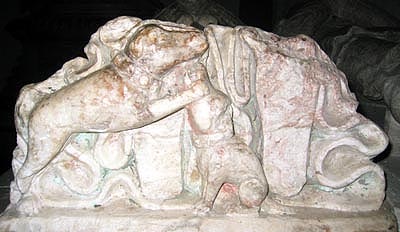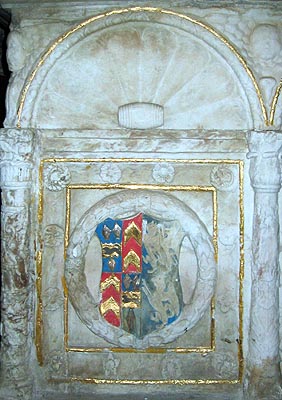 This large altar tomb chest with recumbent effigies of alabaster, in Faringdon Church, are of Sir Thomas Unton of Wadley House at Littleworth, who died in 1553, and Elizabeth, his wife. It appears to be the work of the monumental masons of Burton-on-Trent. This monument formerly had on it an inscription which read:

Here lyeth Thomas Unton, Knight, and Dame Elizabeth his wife.

Sir Thomas was the son and heir of Hugh Unton, by his wife Anne, daughter and heir of William Fettiplace of Stokenchurch (Buckinghamshire). From Chancery Inquisitiones post mortem, it appears that he married, probably as his first wife, Elizabeth, daughter and co-heir of William Yonge (d. 1487) of Southbury in Hanney (Berkshire), through whom he inherited the manor of Southbury. He subsequently married Elizabeth (d. 1536), fourth daughter of Oliver Hyde (d. 1516) by his wife, Agnes, daughter and heir of Thomas Lovingcott. Sir Thomas Unton was Sheriff of Berkshire and Oxfordshire in 1531. He held the lease of the manor of Wadley in Faringdon from Oriel College, Oxford, and also appears to have held land in Minster Lovell and Aston Rowant (Oxfordshire) and at Waddesdon and Fingest (Buckinghamshire) together with the manor of Stalpits in Shrivenham (Berkshire). At the coronation of Queen Anne Boleyn, in May 1533, he received the honour of knighthood. By his will, he founded, in the church, a chantry for himself and descendants. By Elizabeth Hyde, Sir Thomas had issue, two sons and two daughters. His heir was Sir Alexander (d. 1547); Thomas, his second son, married Ann Cottysmore, lived at Letcombe Regis (Berkshire), and d.s.p. in 1542. Edith (d. 1562), the elder daughter, married Sir John Russell (d. 1536) of Strensham (Worcestershire); Anne, the younger daughter, married John Vampage of Wollashall in Eckington (Worcestershire).

Partly edited from P.S. Spokes' 'Coats of Arms in Berkshire Churches' in the Berkshire Archaeological Journal (1933).