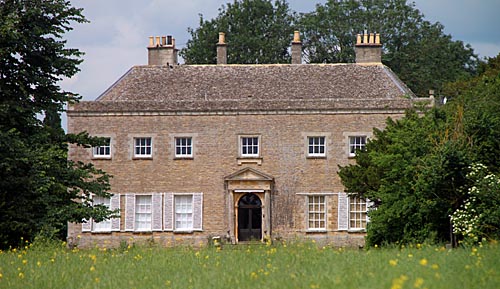 Wadley House
Littleworth, Berkshire
Wadley House stands in the Littleworth area of Faringdon, about a mile outside the town. The first building on the site of which we have any details was one of the homes of Sir William Porter whose widow, Dame Agnes, was, in 1436, given "one chamber above the gate... two chambers beneath this... [and] two stables for use on the south of the manor house". This was clearly a late medieval quadrangular house with a prominent entrance gatehouse and probably a moat. Sir William had been a great friend of King Henry V and fought with him on numerous campaigns, including at the Battles of Shrewsbury and Agincourt. It was after the last clash that he was given the lease on Wadley for "good and unpaid service". His main estates were in the Midlands, centred on his wife's inheritance, Wimpole in Cambridgeshire, but he also owned the manor of Letcombe Regis and spent much time in attendance on the King at Windsor Castle. Agnes (daughter and coheiress of Sir Adam Francis, Lord Mayor of London) seems to have had a connection with both the medieval English Unversities which may explain her retaining lodgings at Wadley, only eighteen miles from Oxford.
In 1440, the manor was granted to Oriel College, Oxford who have owned it ever since, but have always leased out the estate to prominent families. By 1514, Sir Thomas Unton and his family were living there, although his main residence was Minster Lovell Hall in Oxfordshire. He built his fortune on profitable Berkshire wool, but it may have been his son, Sir Alexander, who first built a great Tudor mansion of limestone rubble at Wadley for the family to move into. A small L-shaped wing on the north side of the present house survives from this period. The house could well have been extended by his own son, Sir Edward, who appears to have had pretensions of grandeur since his marriage, in 1555, to the widowed Duchess of Warwick, aunt of King Edward VI. This couple were close friends of the lady's brother-in-law and Queen Elizabeth's favourite, the Earl of Leicester, whose house at Cornbury Park was only eighteen miles away. By the time of the Queen's first visit to Sir Edward in 1572, Wadley was probably one of the great mansions of Elizabethan Berkshire. However, he appears to have been obliged to entertain Her Majesty at his lesser home at Langley near Burford in Oxfordshire, since, by this time, his wife had lost her mind and could not be trusted to welcome the Queen at Wadley.
We know much about the layout of the house from an inventory of 1596, taken after the death of Sir Henry Unton, the English Ambassador to France. The house was vast, containing some 59 rooms plus outbuildings. These included a great hall, a long gallery, a parlour (furnished with a long dining table and green upholstered chairs and stools with cushions of red satin and gold lace), an armoury (with 6 muskets, 10 pistols and various pieces of armour) and two cellars (with 29 barrels of various sizes). In the study, hung with gilded leather, Sir Henry had a library of 220 books. There was also a school house; but the chapel was used as a storeroom for spare furniture and the stocks. Of the 34 bedrooms, many were for servants, but not the 'Drawing Chamber' with its fine four-poster bed with yellow satin bedspread and taffeta curtains surrounded by yellow velvet chairs, cushioned window-seat and tapestry wall-hangings. Nor the 'Lady's Chamber' with its green-covered four-poster topped by "8 plumes of feathers". The kitchen must have been huge. It contained four dressers and the fireplace was big enough to hold eleven pot-hooks on the "iron bar in the chimney". Among the other food storage and preparation rooms - the usual buttery, brewhouse, bakehouse and dairy - there was even a 'pasty house'.
Sir Henry's widow, Dame Dorothy Unton, lived on at Wadley for a few years and entertained King James I and his queen upon their first Autumn progress in 1603. They must have enjoyed themselves as they stayed for two nights. Later, Lady Unton seems to have retired to Faringdon House while her husband's widowed nephew-in-law, Sir Valentine Knightley, moved into Wadley around 1615. He seems to have preferred it to his Northamptonshire properties. It later passed to his own widowed son-in-law, George Purefoy. The family's main estate was at Drayton in Leicestershire, but they too seem to have favoured Wadley at times. The house probably suffered considerably during the Civil War absence of George Purefoy Junior. It was no doubt overrun by the Parliamentary army during the first Siege of Faringdon in 1645 when tradition has the majority of them camped on nearby Folly Hill. It was probably ransacked again during the Second Siege the following year.
From the Purefoys, Wadley passed to their maternal cousins, the Astons of Aston Hall at Aston-by-Sutton in Cheshire; but, with a fine Carolingian mansion of their own and their new Berkshire property falling into an increasingly poor state of disrepair, they seem to have been rarely in residence until it was given to a younger son of the family, Richard Aston, in 1702. Thus his sons, Sir Willoughby Aston, the 5th baronet, and Sir Richard Aston, the Lord Chief Justice of the Court of Common Pleas in Ireland, grew up there. The former married Elizabeth, the daughter of Henry Pye of nearby Faringdon House (and aunt of the poet laureate, Sir Henry James Pye). In 1764, he sold the estate to his brother-in-law, Charles Pye. The latter had Thomas Strong of Stanford-in-the-Vale rebuild the house for him four years later. The current, rather plain, seven bay two storied limestone rubble house with hipped roof is the result. From the 1830s, it was the home of Thomas Mills Goodlake from the well-known Letcombe Regis family. He built himself a new house at Shellingford, but didn't like it, so stayed at Wadley all his life.
Wadley House is a private residence. It can be seen from the footpath between Faringdon Folly and Hatford.