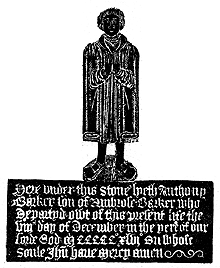 Sonning Church
Monumental Brass to Anthony Barker
Chancel Floor: Brass effigy
This brass was found during the restoration of the church in 1852, broken in eight pieces, and put together and fixed as at present. It features Anthony, one of the nineteen children of Ambrose Barker, a citizen & merchant of London and brother to William Barker, the Bishop of Salisbury's steward at Sonning. He apparently died as a young lad:
"Here under this stone lyeth Anthony Barker son of Ambrose Barker who departed out of this present life the 8th day of December in the Year of Our Lord God 1546. On whose soul Jesus have mercy. Amen."
A small full length effigy of a civilian, clean shaven and with long hair, wearing an under garment with frilled collar, doublet and a short over-gown reaching to the knees, with long sleeves in which are slits for the passage of the arms. He is wearing hose and large broad toed shoes.
Costume Description taken from H.T. Morley's "Monumental Brasses of Berkshire" (1924)