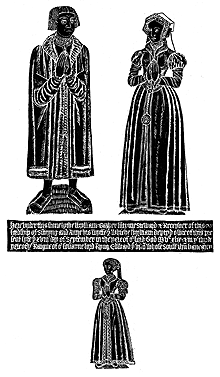 Sonning Church
Monumental Brass to William & Anne Barker
Chancel Floor: Brass effigies
William Barker was Steward to the Bishop of Salisbury and would have lived at the Bishop's Palace in the Holme Park which his master rarely visited. He was the son of William Barker of Wokingham and his wife, Anne Burghley, whose quartered arms can be seen on a number of other family brasses nearby. He married Anne daughter of one of the Throgmortons from Buckland in the north of the county, and they had one daughter named after her mother who was buried alongside them some years later.
Apparently, this brass was originally inlaid in an older stone in the chancel, 90 inches by 35 inches, with a marginal inscription in Lombardic lettering of which only a few words could be made out at the time of the church's restoration (1852). The main figures are now separated from their daughter by the brass to William's nephew, Anthony Barker. The inscription reads:
"Here under this stone lyeth William Barker sometime Steward & Receiver of this Lordship of Sonning and Anne his wife ye which William departed out of this present life ye 18th day of September in the year of Our Lord God 1549 & in ye third year of the reign of Our Sovereign King Edward ye Sixth. On whose soul Jesus have mercy."
William and Anne's dress is of considerable interest. They appear as two full length figures slightly turning towards each other. William, who has long hair, is in civil costume, wearing a doublet, an embroidered undergarment can be seen at the neck, and over the doublet he wears a fur lined gown with long false sleeves reaching below the knees, with shaped openings for the passage of the arms. Broad round toed shoes fastened across the instep with a strap or band.
His wife, Anne, wears the kennel shaped head-dress, elaborately embroidered, the small front lappets being turned upwards and long lappets falling down behind, a close fitting dress with turned back collar, puffed at the shoulders and with tight, striped sleeves, with frills at the cuffs. Round the waist is a girdle, fastened in front with a small ornament from which a larger one is suspended.
Costume Description taken from H.T. Morley's "Monumental Brasses of Berkshire" (1924)