RBH Home
Maps & Travels
Articles
Legends
Towns & Villages
Castles & Houses
Churches
Biographies
Gentry
Family History
Odds & Ends
Mail David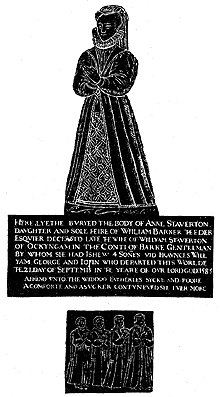 Sonning Church
Monumental Brass to Anne Staverton
Chancel Floor: Brass effigy
A full length effigy of Anne, daughter of William Barker, Steward & Receiver of Sonning. She was first the wife of a Mr. Bridon from Ipswich and then of William Staverton of Wokingham, the fourth son of Richard Staverton Senior of Warfield. She is wearing the French hood, with lappet falling behind, a ruff at the neck, an over-gown with large turn over collar, beaneath which is the pleated front of the under-gown, large sleeves, and the front open and showing the embroidered petticoat beneath. The inscription above her four sons reads:
"Here lieth buried the body of Anne Staverton daughter and sole heir of William Barker the Elder, Esquire, deceased, late the wife of William Staverton of Wokingham in the county of Berkshire, gentleman, by whom she had issue, four sons, viz. Fancis, William, George and John, who departed this world the 21st day of September in the year of Our Lord God 1585.
A friend to the widow, fatherless, sick and poor.
A comfort and a sucker continued she evermore."
Costume Description taken from H.T. Morley's "Monumental Brasses of Berkshire" (1924)