RBH Home
Maps & Travels
Articles
Legends
Towns & Villages
Castles & Houses
Churches
Biographies
Gentry
Family History
Odds & Ends
Mail David

Wokingham
of Bells & Bull-Baiting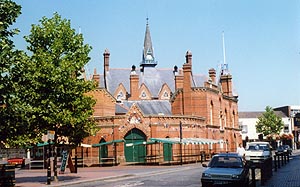 Wokingham is a small market full of quaint old buildings of both Medieval timber-framing and Georgian elegance. Roads radiate out (with an interesting one-way system for motor vehicles) from the Market Place, where stands the grand Victorian town hall. It is an interesting pinnacled brick building, home of the borough council and their large collection of paintings of various members of the British Royalty. There are shops in some of its alcoves and an outdoor market meets on the surrounding plazza. This area was the traditional site of the annual bull-baiting for which Wokingham was famous in the 18th century. The striking Rose Inn is the successor to the workplace of the famous barmaid, Fair Molly Mogg. Pope, Gay, Swift and Arbuthnot wrote their ballad to her beauty there in the early 18th century.

There is a vast Waitrose supermarket hidden away off Rectory Road, but Wokingham's main shopping streets are Peach and Denmark Street. These feature several well-known High Street names as well as local businesses. At the far end of the latter is Wokingham's ten-pin Bowling complex and a convenient drive-through burger bar. In Peech Street can be found the ancient 'Overhangs,' a 15th century building thought to be the Windsor Forest Verderer's Court-House. Other medieval timber framing can be seen in the parallel Rose Street which heads on down towards the parish church; but the large Tudor facade at Shute End actually came from a house in Binfield early in the 20th century.
All Saints Church is largely a 14th century building which has undergone heavy Victorian restoration. It houses a rare Elizabethan Royal Arms. The churchyard is a quiet spot with some interesting memorials, despite the busy road outside. The only Grade 1 listed building in the town is the Lucas Hospital on its southern edge. This magnificent winged 'retirement home' was erected with a bequest left by one Henry Lucas in 1663. It still serves today, like it always has, as a home for sixteen old men from the thirty-two neighbouring parishes.
Next: Reading