Bracknell
Modern Town of Fountains

The name derives from Braccen-Heale meaning "Bracken covered Secret Place". It is mentioned in a Winkfield Boundary Charter of AD 942.
Bracknell Church was built in the 1850s. The town centre has only three ancient buildings of interest, all of them pubs. The best is the Old Manor, a beautiful 17th century brick manor house complete with priest hole overlooking one of the bars. It is said to have secret passages connecting to various locations. Legend associates them with Dick Turpin, a patron of the now demolished Hind's Head that stood opposite. The two buildings once stood alone on Ascot Heath. The surrounding area was infamous for such bandits. Use of the underground passages by the secret priests would seem more likely though.
The Hind's Head had an unsavoury reputation. In the 18th century its publican apparently came up with an ingenious way of subsidising his income. Any rich traveller who stopped at the inn was given a particularly undesirable room for the night: It had a trap door beneath the bed. When asleep, the unfortunate guest would be catapulted down a neck-braking shaft and their possessions taken to swell the innkeeper's purse. Eventually, a bar-maid fell for one of the prospective murder victims and told him what to expect. He ran for help and the publican was quickly arrested. Unfortunately for Bracknell, this story is almost identical to the much better documented version from the Ostrich in Colnbrook (Bucks).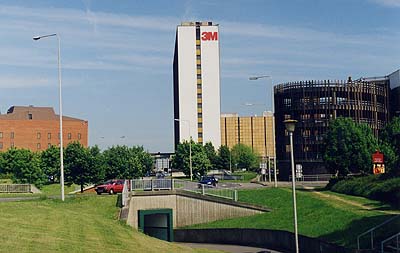 The other surviving old pubs are the Red Lion and the fomer Bull: both timber framed but of uncertain date. Before the latter stands one of Bracknell's many unusual fountains: a large rotating granite ball miraculously suspended in a pool of water. Not far away, in Charles Square, is a huge clock-fountain!
It was at Bracknell, in 1723, that a troop of mounted grenadier guards had a pitched battle with the infamous band of ruffians known as the Wokingham Blacks. They had been marauding around this area of Windsor Forest for over a year, but, after one of their number was forced to reveal the gang's whereabouts, the authorities were, at last, able to capture some twenty-nine men.
A more genteel one-time resident of the town was the celebrated poet, Percy Bysshe Shelley. During the period of his rocky first marriage, he took a fancy to a certain Cornelia Turner and moved to Bracknell to be near her. They studied the Italian poets together, but how far their relationship otherwise went is unclear.
See also Bracknell suburbs.
Click for Jonjo Maudsley's Bracknell Blogger?
Click for the Bracknell Stop on the Berkshire Towns Tour
Click for Bracknell History for Kids