RBH Home
Maps & Travels
Articles
Legends
Towns & Villages
Castles & Houses
Churches
Biographies
Gentry
Family History
Odds & Ends
Mail David

Bracknell
Modern Town of Fountains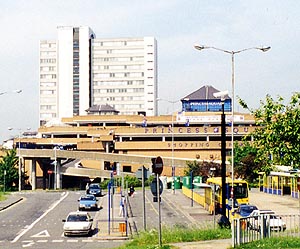 Bracknell is a so-called 'New Town,' built in the 1960s. It has been used as the set for a number of big-screen movies where the producers have wished to depict the high-rise modern buildings of New York without the expense! The town is at the centre of Berkshire's Silicon Valley and the home to many well-known computer and IT companies; though best known for - until recently - being the abode of the Met Office, from where all Britain's Weather Information was distributed.

The old High Street is barely recognisable today, with only a handful of old buildings remaining. Notable are three pubs: the historic Old Manor (complete with ghost and priest hole) and the timber-framed Bull and Red Lion. The latter sits in an interesting position sandwiched between the shining gold of Eagle House and the towering 3M Building which dominates the town. 3M sits above Bracknell's bustling indoor market (Friday & Saturday) which is joined to the main shopping precinct by one of a maze of, often beautifully painted, subways. These run beneath the town's ring roads in conjunction with an excellent cycle-path network which allows cyclists to avoid the town's notorious traffic roundabouts, especially the peanut-shaped double one at 'Twin-Bridges'.

Bracknell town centre consists of a series of interlinking pedestrianized squares, surrounded by numerous multi-storey car parks. A variety of interesting fountains dotted around the area help to break up the wide expanse of concrete, including a huge granite ball apparently suspended on water and a clock fountain that sperts from beneath your feet: highly popular with children on hot summer days. There is a good array of shops, some undercover in Princess Square where there is always a craft market, a book signing, children's entertainment or some other activity going on. On the edge of all this is the Peel Centre with larger DIY and furniture stores; and 'The Point,' a focus for evening entertainment with a bowling alley, ten screen cinema, night club, bars and eateries.
The town is surrounded by Crown Estates woodland and there is an excellent natural heritage and scientific discovery centre at 'The Lookout,' just south of Bracknell. Climb to the top for a fantastic view of the local area and walk or cycle around one of the many pathways through the forest. Nearby is the tree-covered Caesar's Camp, an Iron Age hillfort. Across the road are superb swimming, water park and spa facilities at 'Corel Reef'. Bracknell has a large sports centre and there are dry-slope ski-ing and ice-skating facilities at the John Nike Centre off the A329(M), as well as a plush Alpine-style hotel. The town also has an excellent arts centre at South Hill Park. This 18th century mansion in beautiful parkland has a constant programme of theatre, cinema and workshops.
Next: Wokingham