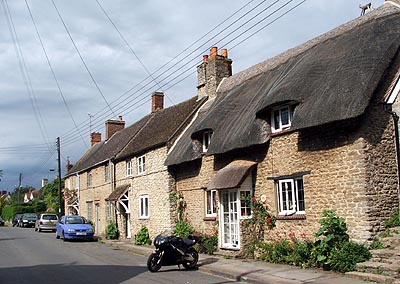 Marcham
from Pagan Temples to Christian Abbey Lands
In the extreme west of modern Marcham parish stands the former Noah's Ark Inn. The name derives from Saxon ark meaning "casket" or "coffin". Thus, it is no surprise that an ancient Roman and early Saxon cemetery has been discovered nearby. The pub is, in fact, at the centre of a Roman village (and Iron Age predecessor) where some or all these deceased persons would have lived. Usually referred to as the Roman town of Frilford (it is just south of that village), the place has been extensively surveyed and selectively excavated over the last sixty years. It appears to have been a major tribal centre, focused around an enclosed religious complex, probably containing five or more temples! Central to this area was a pagan building of the usual Romano-Celtic type: an internal sanctuary with surrounding ambulatory. Another temple was circular with a sacred fire within. Most fascinating, however, is a Roman 'amphitheatre' found further to the east. Theatres were often associated with temples, but amphitheatres were usually for gladiatorial shows. Both could be utilised for festive religious ceremonies though; and there is some doubt whether there were ever many gladiators in Britain. Bull and bear baiting were probably more the thing. A small alcove on the south side of the Noah's Ark amphitheatre may have been a beast-cage, though a religious shrine seems more likely in this case. In fact, another theory, based on the extremely wet conditions in the area, suggests that the whole structure was not an amphitheatre at all but an enclosed sacred pool. A probable pilgrims hostel has also been uncovered nearby, but no other domestic buildings have yet been identified, despite their roof tiles and other signs of occupation having been found over an extensive area.
Marcham village began life as a Saxon settlement and its first residents may have been buried in the cemetery at Frilford. The name means 'Wild Celery covered Water Meadow' after the sea celery which still grows in the salt marshes between Marcham and the River Ock. It was one of the many places in this part of the county which belonged to the Abbey of Abingdon, being gift from King Edgar the Peacemaker in AD 965. The monks elevated Marcham Church to the rank of a Saxon Minster from which preachers travelled out across the local countryside. The present structure is mostly early Norman but parts of the tower are said to date from Saxon times. The parish kept the abbey supplied with 3,000 eggs, 136 cocks and a specified amount of vegetables a year throughout Medieval times and its landlord was always highly influential in the village. It kept a stone-built hostel at what is now called 'Marcham Priory', an early 16th century building with earlier foundations. It has an unseen ghost with heavy footsteps that runs up and down the stairs and along the corridors. Several of the main abbey servants also held lands in the village including the cordwainer and the master cobbler. They were kept well fed by the livestock in their dovecotes of which there were once seven in Marcham: two remain. The sacrist managed what became known as Hyde Farm in the late 14th century, though, as the Abbey was so close by, he is unlikely to have stayed over-night. The farmhouse dates from around 1270 but did not gain its present name until the time of Cromwell's Commonwealth when it was given to King Charles' executioner, James Hyde, for services rendered!
During the Civil War which led up to this monarch's demise, Colonel Waller made the village his headquarters for a short time, in May 1644, when he was attempting to cross the Thames at Newbridge in order to attack Royalist Oxford. Six months later, another parliamentarian, Captain Ayscough, and his men were stationed in the village when they were suddenly attacked by Sir Thomas Lunsford and his cavalry. The Roundheads were cornered in a certain Mr. Piggott's House and, finding their cause futile, they blew out the candles and hid in the darkness behind the fireplace. Eventually, an old woman let in the Royalists who took their prisoners, without a fight, back to Oxford.
In 1717, the manor of Marcham was purchased by Robert Meggot, a wealthy brewer from Southwark (Surrey). He was married to Amy, the sister of Sir Hervey Elwes, a baronet from Stoke in Suffolk, from whom she inherited £100,000, yet starved herself to death because she was too mean to spend it. Robert and Amy's son, John, adopted the name Elwes upon inheriting his uncle's estates in 1763. John was also famous as a wealthy and eccentric miser, although he was a man of taste who enjoyed travelling. He claimed to have spent a mere one shilling and six pence on elec­tion expenses when he became Berkshire's Member of Parliament; though it is not known weather he wore his hat, stolen from a scarecrow, when attending the Palace of Westminster. Even John's health was limited by expense. He once badly cut both legs, but would only allow the apothecary to treat one, wagering his fee that the untreated limb would heal first! The lawyer who drew up his £800,000 will in 1789 was forced to undertake his writings in the firelight by the dying man's bedside in order to save the cost of a candle. Miser John's grandaughter, Emily Frances, eloped with a local farmer named Thomas Duffield. He also became an MP (for Abingdon) and eventually the two inherited the manor. They rebuilt it as the present fine Georgian building, Marcham Park, better known as the residential Denman College belonging to the National Federation of Women's Institutes.