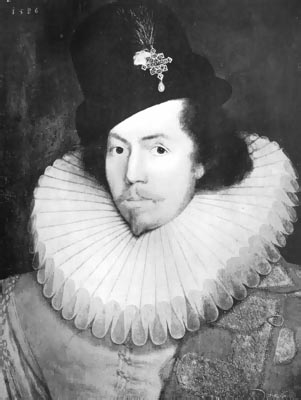 Sir Henry Unton (d. 1596)
Born: circa 1561 at Ascott-under-Wychwood, Oxfordshire
Ambassador to France
Died: 23rd March 1596 at La Fere, Picardy, France
Sir Henry Unton was the son of Sir Edward Unton (occasionally spelt Umpton) of Wadley House at Littleworth in Faringdon (Berkshire) and his wife, Anne, the eldest daughter of the former Lord Protector of the Realm, Edward Seymour, Duke of Somerset and widow of John Dudley, the Earl of Warwick. He was educated at Oriel College, Oxford, but left it without a degree and travelled. After his return, according to Anthony Atwood, "being esteemed a person well qualified, he had some employment under Sir Christopher Hatton, Lord Chancellor, who finding him a man of business and experience, commended him to the Queen." In 1583, he was abroad again, negotiating the release of his elder brother, Edward, from the hands of the Inquisition. His ransom considerably impoverished the estates which Henry was to inherit six years later. In 1586, he was present at the Siege of Zutphen, where his mother's nephew (via her first marriage), Sir Philip Sydney, was slain and, on quitting the English camp on the 29th September, he received the honour of knighthood at the hands of his mother's brother-in-law, the Earl of Leicester. In 1591, he married Dorothy the daughter of Thomas Wroughton of Broad Hinton in Wiltshire. The two had no children. In the same year, Sir Henry was appointed Ambassador to France and departed on the 23rd July. He continued in attendance upon the French King's camp until the following June, when he departed from La Fere in Tartanoys (a fortified town in Picardy) convoyed by 120 horse on account of the dangerous state of the country. Returning by way of Dieppe and Dover, he arrived at the Royal Court on the 17th June 1592. During this embassy, Sir Henry suffered considerably from ill-health and he refers, in correspondence, to an attack of yellow jaundice with which he was troubled. In August 1591, the Queen graciously condoled with him on his being sick of an ague at Dieppe and concluded with a very flattering farewell, "And so we ende, wishing you to have care of youre owne health, which we desire as much to heare of as any freind youe have, excepting youre owne wife." Health and an impoverished purse found Unton anxious to return home and he solicited leave to do so some months before it was granted. On his departure, he was spoken of by King Henry of France in a letter to Queen Elizabeth in the most handsome terms.
The spirited challenge which, during his sojourn abroad in or about March 1592, Sir Henry Unton sent to the young Duke Henri de Guise, in gallant resentment of some disparagement cast on the honour of his Royal mistress, has been more frequently related than any other feature of his history. He told the Duke that he had sent him two such challenges before, but never had any answer. On each occasion, he took care to assert the dignity of his birth, "Nor would I have you to thinke any inequality of person between us, I being issued from as great a race and noble house (every way) as yourselfe." By this he was probably referring to his family's alliance with the Seymours, for his mother, the Countess of Warwick, had been a daughter of the Duke of Somerset and Protector of England during the minority of Edward VI.
Sir Henry Unton was elected Knight of the Shire for Berkshire in the Parliament of 1593. In December 1595, he went again as Ambassador to France. In a letter to the Lord Treasurer of the 17th March following, he mentions that he had then been, for some days, suffering from a malignant fever and had been abandoned by his physicians. He died on the 23rd of the same month. His body was brought to England and, in consequence of his dying in the dignified position of Ambassador Leidger, his funeral honours were the same as those usually paid to a Baron. The following memorandum, inter alia, appears in the records of the College of Arms: "The sayd Sr. Henry Unton, Knight, dyed Lord Ambassador resident in France, in the French Kynges Campe lying before Lafere, from whence he was brought over to London, and from thence he was worshipfully accompanied and caryed in a coache to Wadley, and from thence he was caryed to Farringdon, in the County of Berkshire, and in the parish churche there buried on Thursday the 8th day of July 1596, with a Baron's hearse, and in the degree of a Baron, because he dyed Ambassador Leidger for France." The service was taken by Unton's chaplain, Robert Wright, who later edited a volume of Latin verse to his memory. Sir Henry left no will; but administration of his effects was granted on the 6th April 1596, to Cecilia Wentworth alias Unton and John Wentworth, Esq., her husband.
These days, Sir Henry is most famous for his unusual memorial portrait, now in the National Portrait Gallery. On either side of the great man are represented a number of episodes from his life: his birth, his education, his travels and his marriage; his death, his burial and the monument in Faringdon Church which was erected to his memory. The picture was probably painted soon after his death at the desire of some of his family.