RBH Home
Maps & Travels
Articles
Legends
Towns & Villages
Castles & Houses
Churches
Biographies
Gentry
Family History
Odds & Ends
Mail David

Faringdon Church
Effigial Monument
West Wall of the Unton Chapel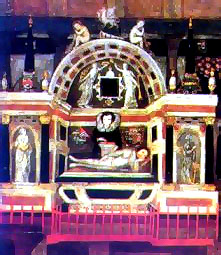 Above: Original monument, now destroyed
Below: What remains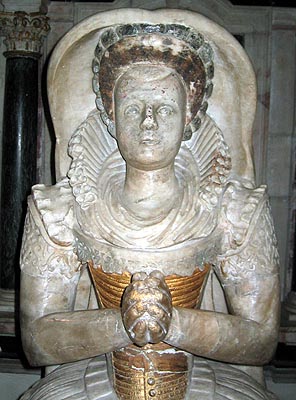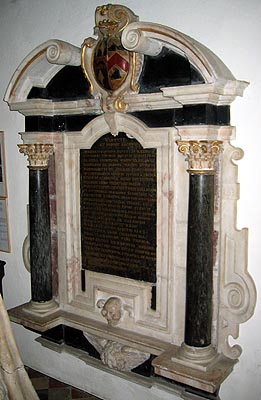 A marble tablet and the kneeling effigy of Lady Dorothy, in vast mourning hood, is all that is left of the once great monument to Sir Henry Unton, destroyed in the Civil War. An illustration of its original appearance can be seen on his multi-faceted portrait in the National portrait Gallery. The present tablet, probably made from parts of the original, has a Latin inscription which, in English, reads as follows:
Sacred to Virtue and Honour, to Henry Unton, Knight, son of Edward Unton, Knight, by Anne Countess of Warwick daughter of Edward Duke of Somerset and Protector of England, who was brought up from his early youth in the University of Oxford in the study of the loftiest arts, who travelled through a great part of Christendom, and on account of his soldierly valour at the siege of Zutphen was rewarded with the dignity of the order of knighthood. Having been sent on account of his singular discretion and his tried fidelity and manifold experience as Ambassador from the Most Serene Queen of England to the Most Christian King of France, he departed from that land to the Heavenly Country the 23rd day of March in the Year of Salvation 1596. Dorothy his dearest wife, most beloved daughter of that most worthy man Thomas Wroughton, Knight, which (Dorothy) with deepest grief took care to have the body transferred here and very sadly erected this monument as a testimony of their mutual love and conjugal fidelity 1606.
Sir Henry was second son and eventual heir of Sir Edward Unton (d. 1583) of Wadley House at Littleworth in Faringdon, whose own monument is affixed to the wall above the remains of Sir Henry's. He was educated at Oriel College, Oxford, entered Middle Temple in 1575 and travelled in Italy and France. He was M.P. for New Woodstock in 1585 and for Berkshire in 1593, and in 1586 was knighted after the Siege of Zutphen. In 1593, he became Knight of the Shire for Berkshire. In 1591, he was appointed Ambassador to King Henry IV of France, but suffered much from ill health. Queen Elizabeth, writing to him in 1591, expressed herself thus: "And so we ende, wishing you to have care of youre owne health, which we desire as much to heare of as any friend youe have excepting youre owne wife." During his embassy in France, from which he returned in 1592, he twice challenged to a duel, Duke Henri de Guise, on account of the latter casting aspersions on the honour of Queen Elizabeth. The Duke declined to fight. In 1595, he returned again to France as Ambassador, much against his will. He soon became ill and died at La Fere in March, 1596. His body was brought to Faringdon Church and there buried on 8th July 1596 with the funeral honours of a Baron's degree (as also shown in his portait). He married, before 1591, Dorothy (d. 1634), eldest daughter of Sir Thomas Wroughton, Kt. of Broad Hinton (Wiltshire) by whom he had no issue. In 1598, she married, as her second husband. Sir George Shirley, Kt. (d. 1622). His co-heirs were Elizabeth, Anne and Mary, the daughters of his sister, Anne, who had married Sir Valentine Knightley, Kt. (d. 1618); and his sister, Cecilia, wife of John Wentworth, Esquire and also of Sir Edward Hoby. Mary Knightley (d. 1617) married, as his first wife, George Purefoy (d. 1622), Esquire of Drayton (Leicestershire), who was the great-grandfather of Sir Henry Purefoy (d. 1686) whose monument adjoins Sir Henry's.
Partly edited from P.S. Spokes' 'Coats of Arms in Berkshire Churches' in the Berkshire Archaeological Journal (1933).