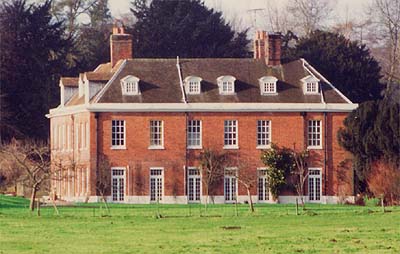 Bere Court

Pangbourne, Berkshire
Bere Court is the manor house of Pangbourne, situated some way south-west of this small town. The origin of the name is unknown, although some connection with the De La Bere family - who were Sheriffs of Berkshire in the early 14th century - is likely.
The Court was one of the chief manors belonging to Reading Abbey and the Abbots used it as a Summer Residence. They had a fine mansion on the site with a private chapel and many secret underground chambers, some of which still survive. It was apparently to one of these that the last Abbot, Hugh Faringdon, was tracked down by the Royal Commissioners and dragged back to Reading for execution in 1539. Afterwards, it was the main home of a prominent Tudor military-man, Sir John Davis. He settled here after having been pardoned for conspiring to overthrow Queen Elizabeth I.
The present building is an early Georgian brick house of seven bays, retaining some interesting heraldic glass of the 17th century. It was probably built for John Breedon, the Sheriff of Berkshire who died in 1711. His family had purchased the manor in 1671 and continued there until about the 1890s when they sold up to a De La Bere! It was only occasionally rented out to tenants, one of whom was the Hurst-born 6th Duke of Marlborough, who kept bees in the tower folly up on the hill (now part of Pangbourne College).
Bere Court is a private residence. It can, however, be glimpsed across the fields from some of the surrounding lanes.