RBH Home
Maps & Travels
Articles
Legends
Towns & Villages
Castles & Houses
Churches
Biographies
Gentry
Family History
Odds & Ends
Mail David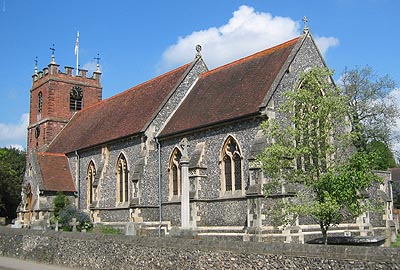 Pangbourne
St. James the Less' Church
The dedication of the church in Pangbourne has nothing to do with St. James' hand being at Reading Abbey, for St. James the Less is a different man. It is one of only twenty-six churches in the country dedicated to him.
The first church here was built some time prior to 1175. It is supposed to have been rebuilt around the time of the Restoration (1660) and the huge brick tower was added in 1718. However, by 1865, the "dilapidation of the building had very far advanced" and nave and chancel were completely rebuilt. The restorers were keen to preserve what historic architecture or fittings they could, but none were to be found. Only the Jacobean pulpit, the Royal Arms (since doctored to appear Hanovarian) and the monuments to Sir John Davis and others were retained.
Sir John's large effigial monument is almost hidden away behind the organ. It is probably of local workmanship. The stone is certainly local chalk fro Shooters' Hill. This gentleman was lord of the manor of Pangbourne and the inscription tells how he made his fortune capturing Cadiz with the Earl of Essex in 1596. Strangely, there is no mention of his later disgrace in an attempt to overthrow Queen Elizabeth I! His son and namesake was a Royalist officer during the Civil War and married the sister of the poet, Sir John Suckling. She is commemorated, with her sisters, on a wall monument in the nave. They also have a floor slab behind the organ which adjoins one recording how a certain Jane Robinson had "a cancer in her breast which she suffered with an invincible patience to be cut off". This lady may well have been the first ever person to have a mastectomy. Unfortunately the operation was not terribly successful and she died within six months. Jane also has a second monument in the nave by Thomas Stanton of Holborn.
Sir John Davis' heirs eventually sold the manor to the Breedon family, who lived at Bere Court in the parish for about three hundred years. Their monuments can be found throughout the church and their collection of hatchments in the church is the largest in the county. That with a skull replacing the crest is interesting, as this denotes the last of the line. However, most of the hatchments are later, since a cousin took the name in order to inherit the estates!
The church has a lovely modern window in its north wall depicting St. James the Less and St. Cecilia, but the building's greatest treasure is the huge east window by Karl Parsons. This magnificent work of art grabs your attention immediately you enter the church. Warm and vibrant, it depicts the Virgin and Child, St. George and St. Michael; and was created as a war memorial to two young lads of the Armstrong family, as well as all those of the parish, who fell in the 1914-18 War.