The name derives from a place-name 'Black Grove'. This is a relatively common place-name and there are a number around the country. Hence it is likely that a number of families with identical names sprang up in the late Norman period. Berkshire has three major families of this name. The Blagraves of Watchfield in Shrivenham always also held extensive lands in Lambourn and it is therefore likely that they are related to the family who lived in that parish from at least about 1500 until the 1730s, particularly at Bockhampton Manor in Upper Lambourn, for several of the early generations. In fact the name probably derives from the small manor of Blagrave in Lambourn parish. The better-known family of Blagrave of Reading, originally hailed from Staffordshire, but perhaps they too came from Lambourn, left and come back again.
The coat of arms used by these families is a play on the family name. A greave is the formal name for an individual pieces of leg armour and the arms feature the unusual charge of three silver graves on a black diagonal 'bend'. The heralds apparently shied away from a full pun of simple 'black greaves'. The two families used different crest: those from Watchfield, a falcon, and those from Reading, a tree. A third crest of three palm branches was also occasionally used, so was presumably also granted to them at some point.
The North Berkshire family was settled at Watchfield by about 1500. They were founderís kin to St. Johnís College, Oxford. In the 1680s, two cousins married, uniting the elder branch with one of the younger ones. At the same time, James Blagrave moved to Highworth, just over the border in Wiltshire and founded a younger branch of the family who lived there and then in Ramsbury until the late 19th century. Some of this family then moved briefly to Reading before settling in West London. The main family continued to live the rural life of farmers and country gentlemen at Watchfield House until 1787, when they sold up and moved to Calcot Park, although they still owned land in Watchfield into the 1840s.
The Reading family moved down from Uttoxeter in Staffordshire, possibly in the late 1530s. Robert settled in both Reading and London, but his nephew, Thomas, may have started out in Newbury near where he acquired the stewardship of a number of manors, through the influence of his employer who was influential at Court. Thomas' family lived mostly in London however, where he eventually became Acting Master of the Revels and Surveyor of the Queen's Works. He may have designed Shaw House. His descendants continued chiefly at Grafton Court in Great Bedwyn (Wiltshire) for which he had been an MP. A younger grandson, Thomas, appears to have become Rector of Purley where the family lived for another four generations.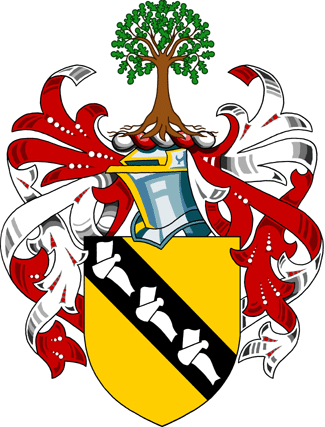 Meanwhile Robert Blagrave had married the widowed Agnes Cowper and had a family. It's not clear exactly what his business was, although he may well have been in the cloth trade. After his death, Agnes married a very astute businessman named William Grey. Grey was a Surveyor of the Kingís lands and was quick to pick up on the opportunities afforded by the Dissolution of the Monasteries. With the demise of Reading Abbey, he snapped up much of their lucrative property in the town, as well as Old Bulmershe Court in Woodley (then in Sonning parish). He had no children of his own and eventually left his land-empire to his step-son, John Blagrave.
Bulmershe remained the familyís main home for generations. However, in 1595, Johnís eldest son, Anthony, a High Sheriff of Berkshire (1604) & MP for Reading (1601), purchased a second home for the family, the moated Southcote House, in the countryside immediately west of Reading. He leased it to his brother, John, who was a famous mathematician. Both were supporters of the Cecils at the Royal Court, and had disputes with their neighbours, the Knollys family. Their younger half-brother was the father of Thomas & Richard Blagrave, the well-known musicians at the Court of King Charles I. John the scholar had no children, and Southcote passed to another brother, Alexander Ė a famous chess player Ė and his son, Daniel, a prominent MP (for Reading 1640/54-58) during the Civil War, who let the Parliamentary forces use Southcote as their headquarters during the Siege of Reading and eventually became one of the Regicides. His family must have retained some wealth when he fled abroad. They continued in London where his son, Obadiah, was a bookseller and publisher at the sign of the Black Bear, near the little north door, in St. Paulís Cathedral Churchyard. Danielís eldest son, Charles, was in Clerkenwell before immigrating with his family to Jamaica to become a plantation owner on land apparently given to his father by Lord Protector Cromwell. He lived at Cardiff Hall in the Orange Valley at Unity and Belle Air in St. Annís. The name became Blagrove and his descendants are still on the island today. Meantime, Danielís elder brother, John, who was Sir Bulstrode Whitelockeís steward, and his son, Alexander, continued in residence at Southcote until 1690. Danielís next brother, Richard, was also in London. His son Nathaniel, apparently emigrated to Bristol, Rhode Island in the present United States. The youngest brother, Joseph, was a famous astrologer in Reading. His great grandson moved to Sutton Courtenay in the 1740s and a number of his sons became millers there and in nearby Abingdon. The family continued to live in the town into the 1850s.
The eldest son of Anthony Blagrave, the purchaser of Southcote, was called John. Like his father, he served as High Sheriff of Berkshire (1624), but was also knighted by the King. He lived at Southcote, while his brother, Anthony, another High Sheriff (1645), resided at OId Bulmershe. His son, John was MP for Reading (1660/79-81) and a Major in the Berkshire Militia Horse, suspected of supporting the Duke of Monmouth's Rebellion. He married twice, founding the Bulmershe branch of the family through his son by his first marriage, George, and the Southcote/Calcot branch through his son by his second marriage, Anthony. Both were a High Sheriffs of Berkshire (1699 & 1712) and, between them, they are said to have owned most of Reading. The latter also MP for Reading (1701/8/22-27) and, through marriage to his cousin, gained much land in Somerset. The Bulmershe family continued until the death of George Blagrave in 1789. His son having predeceased him, his executors sold the estate. Anthony Blagrave of Southcote had a son, John, who purchased the Calcot Park estate (in Tilehurst parish) in 1759 and moved in shortly afterwards. He was MP for Reading (1734-41) & High Sheriff of Berkshire (1762). His son predeceased him and his estates passed to his niece, Frances, who had grown up at Backwell in Somerset. In 1779, this lady married John Blagrave of Watchfield, another High Sheriff (1792), and united the two Berkshire families of Blagrave. Their grandson, John Henry Blagrave was also High Sheriff of Berkshire (1870). The Blagraves sold Calcot Park after the death of his son, John Gratwicke Blagrave, in 1926. A younger branch lived at Shefford Woodlands.
The distribution of the name, often later corrupted to Blagrove, is largely confined to the South of England, especially Berkshire, Oxfordshire and Sussex. The Blagraves of Watchfield quartered their arms with those of Garrard; the Blagraves of Bedwyn with Bellamy and Wright. The first Calcot branch also quartered with Cobb, Langston & Gore; the second Calcot branch with those of Gore and Blagrave. The family appears in the Heralds' Visitations of Berkshire for 1566 and 1665/6, as well as Ashmoleís additions and the Visitation of London 1687/1700. There are 82 Blagrave wills listed in the records of the Archdeaconry of Berkshire between 1480 and 1858. There are 36 Berkshire wills listed in the records of the Prerogative Court of Canterbury. Blagrave Street in Reading, the Blagrave Arms public house in that street and the Blagrave Recreation Ground in Tilehurst are all named after them.
There are a number of heraldic ledger stone memorials in Shrivenham Church to the family, some disappointingly small mural plaques in Tilehurst Church, a few remains of a once fine, probably effigial, monument in Sonning Church and John Blagrave the Mathematician's excellent chunky mural monument, featuring a demi-figure effigy and allegorical figures of mathematical shapes, in St. Laurence's Church in Reading.